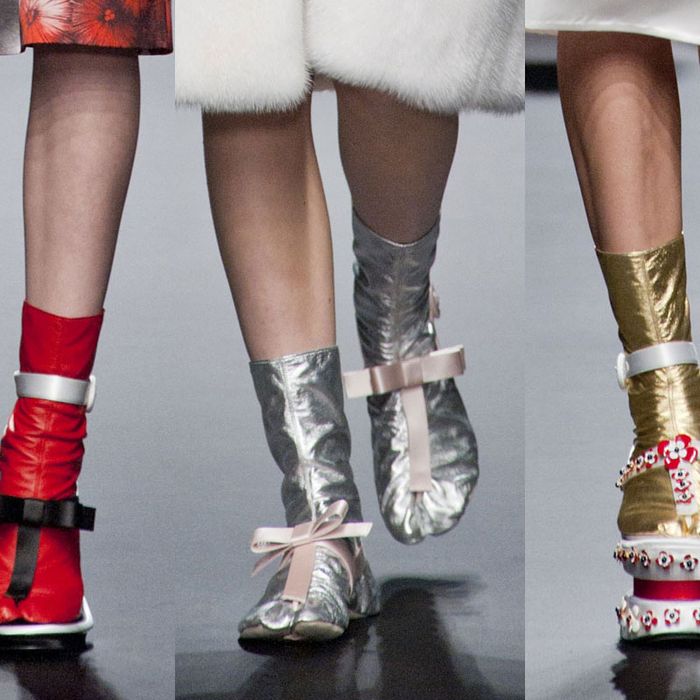 The shoes in question.
Photo: Imaxtree
Last Christmas, my dad gave me a pair of cashmere toe socks. (They get a little sweaty, but they're very warm — thanks, dad!) Anyway, the shoes at Prada's spring 2013 show look like what would happen if, instead of putting said socks in nice, shiny paper with a bow, my dad had somehow combined the socks with the gift-wrapping. How convenient! These will totally solve the conundrum of finding a present for "the girl who has everything" next year.
But really, let's take a closer look at this miraculous footwear, which we'll saddle with the cumbersome title of "toe-sock shoes" for now. Made from leather and studded with bows, they were shown in red, silver, and gold. Models either wore them on their own (perhaps they have some sort of grippy padding on the bottom?) or with high platforms with flip-flop-esque toe thongs. Some of the chunky soles looked to be affixed to the actual socks, creating what looked like a distant, more summery cousin of Prada's Mary Jane boots of fall 2011. Perhaps they'll spark a spinoff trend (or comeback) of socks with sandals for next spring, updated with an emphasis on the big toe, all lonely and sequestered in its own little space? At least pedicures won't be necessary.