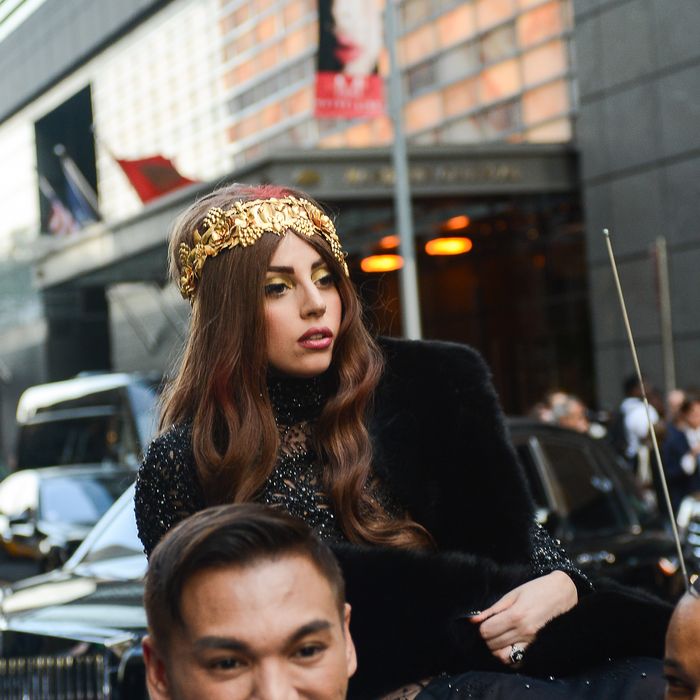 Photo: Ray Tamarra/Getty Images
Last night at the Guggenheim, I touched Lady Gaga's hand while she was "sleeping." Then I watched her get a tattoo on her scalp. Which is to say, Gaga's masquerade gala for the launch of her new fragrance, Fame, got a little weird. 
But I'm getting ahead of myself.
Last night, around 7:30 p.m., a welcoming committee of shirtless men in leather shoulder harnesses lined the Guggenheim's entrance as masquerading guests filed by. One woman wore a caged Hannibal Lecter mask topped with a statue of a petrified cat, mid-scream. (A tiny, terrified mouse scurried across the carpet early in the evening.) Yoko Ono wore a top hat. Marc Jacobs wore silver devil horns. Olivier Theyskens wore the invitation to the party with two eyeholes torn out, and Olivier Zahm just wore his aviators.
Inside, the museum's atrium was wall-to-wall with partiers. They watched Steven Klein's short film for the perfume, featuring the giant Gaga with tiny men crawling all over her that you may have seen in the Fame trailer. Faraway voices chant, "Ga-ga! Ga-ga! Ga-ga!" After the film, French music began to play, and a giant Gaga with Rapunzel brown hair came onscreen. She appeared to be sleeping in red lipstick, sequins, and fur. Then I saw the egg: plastic, translucent, and about ten feet high, on a podium in the atrium — a giant Fame bottle, with Gaga inside. As it dawned on the crowd that the onscreen Gaga was being broadcast live, from inside the egg, two people climbed a set of stairs to the egg and reached into a tiny window to touch the sleeping Gaga. As they did, their hands entered the frame onscreen.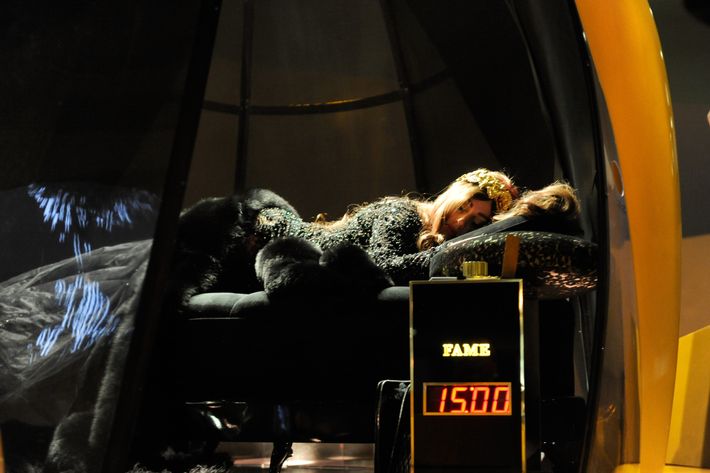 Then, it was everyone else's turn. I followed the crowd swelling beneath the egg and watched as security guards escorted guests to Gaga alone and in pairs. (Emily Weiss and Leandra Medine took pictures of each other reaching into the egg.) The crowd was crushing. One woman flipped her hair directly into my  mouth, while another's elbow rested between my ribs. People pushed from behind and clamored toward the stairs; a black airport-style crowd-control belt was invisible until one was directly against it with nowhere to go. A guest in a cream-colored beaded dress released the belt. "Oops," she said, but already it was as though she'd opened a dam. There was no turning back — or even turning around.
Onscreen, partygoers continued to stroke Gaga's limp hand and long, silver nails. Some reached in and posed for an iPhone photo without even looking inside. Continuing toward the stairs, I found myself smashed against the gold-pailletted back of fur designer Adrienne Landau. As I approached the egg, Gaga began to stir, rustling her hair and rolling over. It was terrifying. Should we wait for her to re-settle? What is the etiquette in this situation? "Are you going to go?" an impatient voice asked from behind. So I went. I walked up, crouched down, and whispered inside the hole in the egg, to warn Gaga I was there. Then, I reached in through a screened hole, and touched her fingers, just the little knuckles below her clawlike nails. Descending the stairs, I realized Gaga had made us all into those little monsters from her film.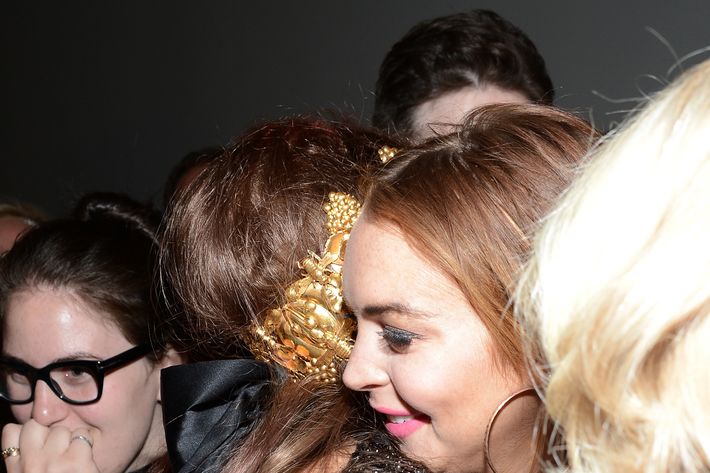 Lindsay Lohan was at the party, but I didn't see her. (Most celebrities not sleeping in eggs seemed to be stowed in the museum's higher spirals overlooking.) Filmmaker Steven Klein braved the crowd on the floor, though. Blinking behind a painted-on Zorro mask, he said, "She'll wake up soon."
As if on cue, Gaga sat up and started preening at a dressing table inside the egg. David Bowie's "Fame" played and she spritzed her neck and crotch with perfume. She might have peed inside a Champagne bucket. Friends joined her in the egg, passing around an electronic cigarette and taking photos with an iPad. Then they removed her wig and most of her clothes, until she wore nothing but a corset, thong, and garter with thigh-highs and boots. She leaned over a cushion and a silver-haired man took a razor to the base of her newly shorn head. Soon, he pressed what looked like a temporary tattoo of a winged cherub there — then pulled out a tattoo gun and made it permanent. This continued for the remainder of the evening: one intimate party, where a languid Lady Gaga was tattooed inside the egg in her underwear, and another larger party, where a sea of guests exhausted from Fashion Week milled about and watched. At 11 p.m. on the nose, a museum guard said the Guggenheim was closing. A newly tattooed Gaga emerged from the egg and met her mother at the top of the stairs. "Come on," said her mom, holding a full glass of Champagne. "Let's go."