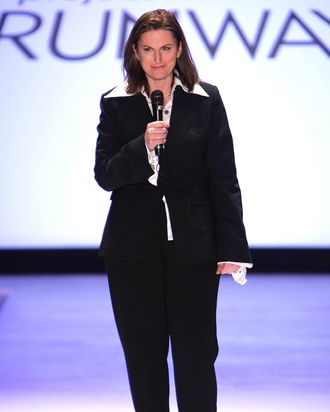 Photo: Mark Mainz/Getty Images
While the cast of Project Runway's new All-Star season hasn't yet been officially announced, an update on the show's website reveals photos of what look to be the new contestants. [Update: as noted, while the images are of the new designers, the names still, incorrectly, reflect last season's cast.] And most important, season one's Wendy Pepper — undeniably still one of the show's biggest characters — looks to be making her hopefully just-as-villainous comeback. Will someone deface more photos of her daughter? We can only hope. (Sorry, but it made great TV.) Other notable designers back in the running: season three's Kayne Gillaspie and Uli Herzner; season nine's nasty Joshua McKinley; and our sentimental favorite, season two's Andrae Gonzalo. Upset at his omission in Lifetime's first All-Star lineup, we asked at the time, in our best Tim Gunn voices, "What happened to Andrae?" Well, now we know.
The cast in full: Althea Harper, Andrae Gonzalo, Anthony Ryan Auld, Casanova, Emilio Sosa, Ivy Higa, Joshua McKinley, Kayne Gillaspie, Laura Kathleen Planck, Peach Carr, Suede, Uli Herzner, and, yes, Wendy.