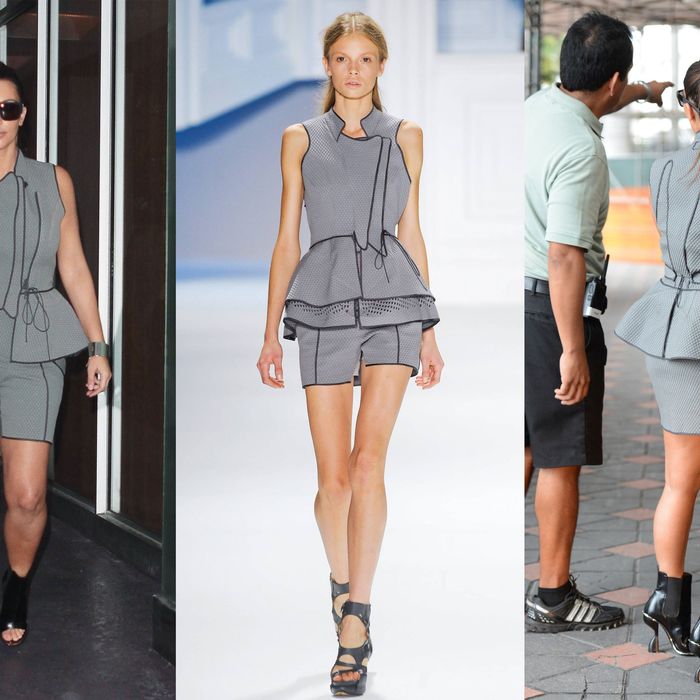 Photo: Splash News, Imaxtree, INFphoto.com
Kim Kardashian was photographed shopping (what an essentially Kardashian clause) in Miami on Monday, wearing an ensemble that includes two of fashion's most perplexing trends — the waist ruffle known as the peplum, and the open-toed bootie, which doesn't even deserve a cutesy name — and introduces us to a third. Approaching the camera, Kardashian appears to be wearing shorts, but as she walks away, she appears to be wearing a skirt suit.
As the Cut's own Sally Holmes put it, "Her front looks like she's on her way to SoulCycle, and her back is on her way to Ladies Who Lunch Lunch." In this sartorial mullet, the party's in front and the business is in the rear.
Is this the world's first-known reverse skort? High fashion does not have the answer. As you can see above (fully understanding how inhumane it is to post a runway look side-by-side with its mortal interpretation), this Zeitgeist-y ensemble only acquired a crotch for its commercial manufacture. At Vera Wang's spring 2012 runway show, it was merely a skirt with a slit. The jury's out on whether this was a sincere edit or a cruel prank on a reality-television star who yearns for high-fashion credentials.