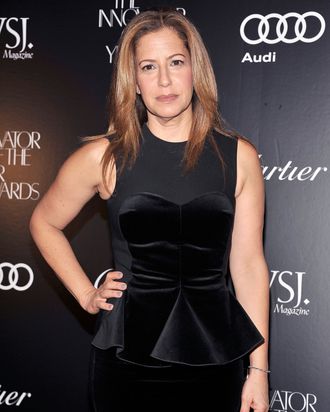 Deborah Needleman.
Photo: Gary Gershoff/WireImage
Now that Deborah Needleman has officially moved to T (she tweeted her farewell today), we can stop speculating about her decision and start speculating about her replacement. Based on pure conjecture combined with some gossip, here are some names floating around.
Anne Christensen: Currently the fashion director at Glamour, former T staffer Anne Christensen was considered the front-runner to replace Stefano Tonchi when he left T for W in 2010. Instead, the position went to Singer, so Christensen decamped for Condé Nast's Glamour, where her luxury-cool sensibilities haven't been put to the best use.
Jay Fielden: The former Men's Vogue editor took over at Town & Country in January 2011; the publication boasts a similar high-luxury readership to The Wall Street Journal and has enjoyed a boost in ad dollars since he came onboard.
Alexandra Kotur: Town & Country's creative director, formerly of Vogue and thus cozy with all the right people.
Pilar Guzman: Currently the editor-in-chief of Martha Stewart Living and formerly the founding editor of Cookie magazine, her background is comparable to Needleman's — she has a solid background with cushy lifestyle books that align well with the tastes of Wall Street Journal readers.
Kate Betts: A veteran of Vogue and former editor-in-chief of Harper's Bazaar (she was ultimately fired in 2001 after she completely overhauled the magazine, with mixed results), Betts has spent the better part of the last decade at Time magazine, where she helmed their special Style & Design issue. She's now a contributing editor there.
James Truman: He left his job as the editorial director of Condé Nast to join the art world several years ago, but maintains all his connections and would certainly know the audience.
Edward Enninful: Now the fashion and style director at W, he'd be an out-of-the-box choice, but his name holds a lot of cachet in the industry. 
Chris Knutsen: Formerly a senior editor at Vogue and a staffer at The New Yorker for nine years, Knutsen was poached by Needleman to be her second-in-command in February; surely he will be running the show in the interim.
Carine Roitfeld: Why not? Well, plenty of reasons — she doesn't seem interested in working under a large media corporation again, and she's far too risqué for the stodgy WSJ. reader. But wouldn't that be fun?