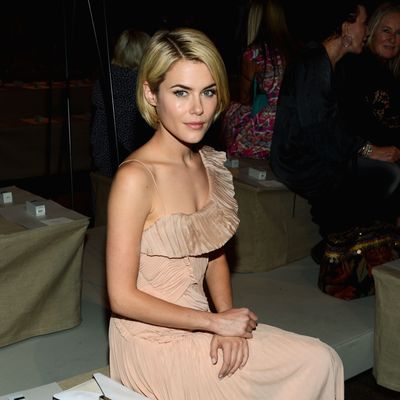 Photo: Jason Kempin/Getty Images
On Sunday nights, actress Rachael Taylor plays the latest tenant to enter the doomed Drake apartment building on ABC's 666 Park Avenue. On the show, her character Jane Van Been is a nice Midwestern girl with a laid-back beauty routine to match. But, in real life, Taylor grew up on the Australian island of Tasmania, where she was manic about avoiding the sun. Read on for tips she shared with the Cut for looking tanned without actually getting tanned, plus the beauty products she still uses daily from down-under.
What beauty lessons did you learn as a child?
My father has lupus, so my parents were militant about keeping me out of the sun. I was the teenager dressed like a bee keeper at the beach because if I came home with a tan, I'd be royally screamed out. Now I've  turned into my mother. My friends sit by the pool in L.A. and I'm in the shade, regularly reminding them that if they want to look like a leather handbag when they get old, they are going the right way about it.
Are there any Australian beauty products you live by?

As a child, my parents put Blue Lizard zinc-oxide cream all over my face. It was pretty embarrassing but I never got burnt! When I started working in television in Australia, I was forced to get some kind of fake tan as I'm super pale. I hate fake tan in general, and I would never wear it now, but I remember feeling like I hit the jackpot when I finally found Modelco "Tan in a Can." It's an Australian product and it actually smells quite yummy and it washes off after application. For someone who wholeheartedly resists the fake tan thing, this is a really well thought-out product.
Which Australian beauty products do you miss when you're in the States?
Fortunately, you can now buy Aesop products readily here. The hand lotion is divine (Aesop Resurrection Aromathique Hand Balm) and it reminds me so much of Melbourne, where I believe the company started.