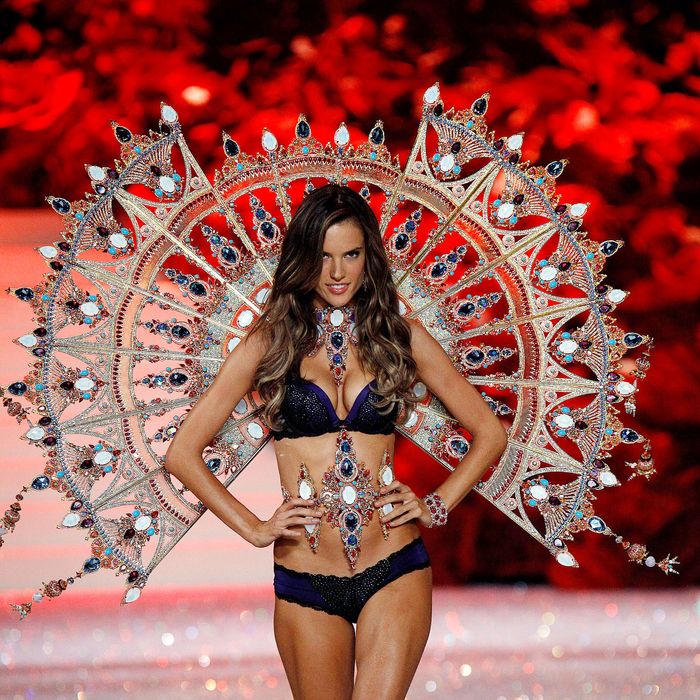 Alessandra Ambrosio, secretly pregnant at the 2011 Victoria's Secret Show.
Photo: Randy Brooke/WireImage
Victoria's Secret has the promotional schedule for their annual fashion show down to a precise science. As soon as fashion season ends in early October, they name the show's performers and start posting videos and other tidbits about their models' special no-carb diets and rigorous workout routines. The Victoria's Secret Angels then become even more ubiquitous at parties and galas. Finally, an announcement is made about which model will get the honor of wearing the coveted "Fantasy Bra" on the runway, and said bejeweled undergarment is unveiled to select press at a splashy event. This year, that special model will be Alessandra Ambrosio, and the $2.5 million sparkly bra will be shown to the world this Thursday. 
The official announcement about the bra was supposed to take place tomorrow, but it was accidentally leaked in a video yesterday. It's not much of a surprise, though — Ambrosio is a veteran Angel, having walked in the show regularly since 2001.* She was one of the three Victoria's Secret models to give birth this year, in addition to Adriana Lima and Lily Aldridge, all of whom will appear on the runway without an ounce of post-baby body fat next month. Don't worry, you'll get to read many interviews about how they lost the baby weight before the show.
Related: 
Alessandra Ambrosio Didn't Tell Anyone at Victoria's Secret That She Was Pregnant
Adriana Lima Goes on a Liquid Diet, Works Out Twice a Day Before the Victoria's Secret Fashion Show
Rihanna and Justin Bieber to Perform at This Year's Victoria's Secret Fashion Show
* This post has been corrected: this is indeed Ambrosio's first time wearing said special bra.