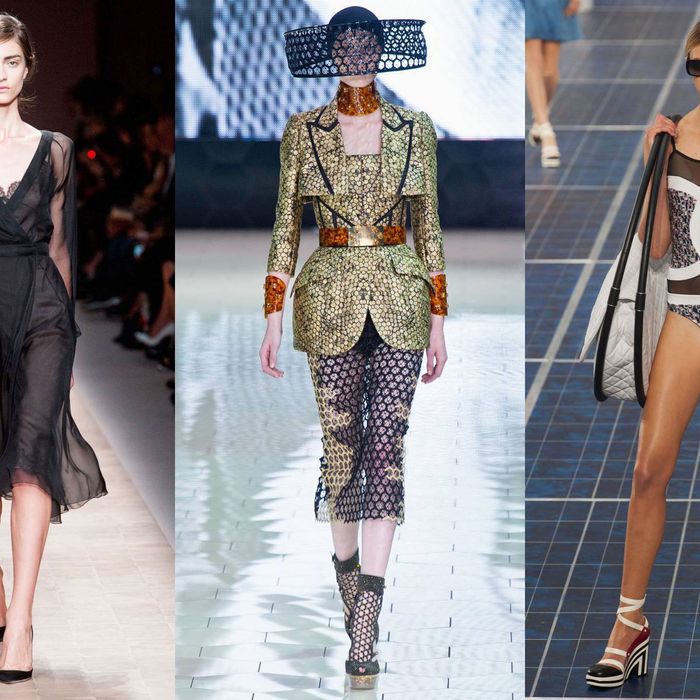 From left: Valentino, McQueen, and Chanel.
Photo: Imaxtree
10:30 a.m. As I sit down at the Chanel show, I hear Mickey Boardman ask Rachel Zoe how she felt about last night's tribute to her personal style.
11 a.m. The Chanel set is always so fantastic in scale: the Grand Palais used to its fullest and, today, set with enormous windmills like you see in L.A. And so many models! Each city has a show that it's difficult to be grumpy about because, if for no other reason, it's so big and so happy and so full of life — in New York, it's Michael Kors, in Milan, it's Dolce & Gabbana. In Paris, it's definitely Chanel.
The color palette was bright, the pearls were big, and I enjoyed the decision to keep all but one, wacky hula-hoop bag off the runway. No one's going to stop loving Chanel bags, whether they're on the runway or not.
2:30 p.m. Valentino is in the Tuileries Gardens and it's another hot, sweaty, overcrowding situation, saved only by how unbelievably pretty the clothes are. They are feminine and modest and sweet without being silly or saccharine. My favorite piece was the sheer black wrap dress, but I also loved the white lace and the jumpsuits with the French maid plackets. The shoes — clear plastic with glittering Lucite wedge heels — were arguably the best and most covetable of the season.  I only want to know more about how that collaboration works, because it is working really, really well.
3 p.m. I wonder about the logic of fashion-show planning: everyone's trying to get out at once, all moving in the same direction. And then the famous people want to go in a different direction, and they have beefy bodyguards who just start shoving. It's terrible! And it's been going on for ages. There must be a better way!
7:30 p.m. The McQueen show is far out in the 19th arrondissement, and it is a quiet and beautifully produced event. (Hooray!) What Sarah Burton has done to keep that house going is one of the more remarkable acts in recent fashion history. As she has consistently managed, the show is fully in keeping with the spirit of the house while continuing to move its ideas forward. One never gets the sense that she is in competition with her former mentor, but in dialogue. Walking out, a friend makes the incredibly smart observation that Burton is a great argument for the merits of a true apprenticeship — so often abandoned in this business in the fevered search for overnight successes and hot new things.
9:30 p.m. There is a black-tie, smoky-eye party hosted by Carine Roitfeld happening at this very moment. And I am way too tired for that. 
See the complete Chanel spring 2013 collection.
See the complete Valentino spring 2013 collection.