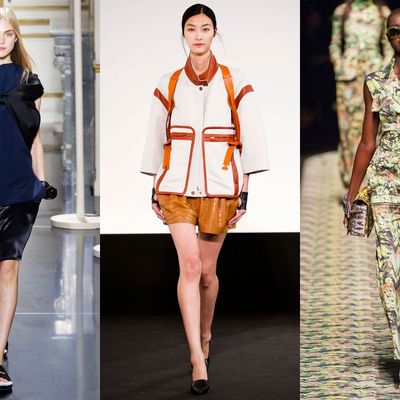 From left: Spring looks from Celine, Hermes, and Kenzo.
Photo: Imaxtree
Saturday
10 a.m. I think that everyone walking into a Chalayan show is hoping, at least in some small way, for a magical, theatrical Chalayan moment, and leaves slightly disappointed when all they've seen is clothes, even when those clothes are incredibly nice. Unfortunately, I am sitting behind an enormous man who is dressed in a white shirt and jeans — all reasonable — and a tiny black singlet. It's one of the more confusing outfits I have seen in a while. Also: There's a pillar in front of me. Not ideal.
1:30 p.m. Another not-wacky show, this time from Viktor and Rolf. Today it's all pastel evening dresses, soft and pretty.
3 p.m. I stop by the Christian Louboutin office to see the spring shoes which range from pretty — a kitten heel with mouse ears that reminds me of old Marc Jacobs — to over-the-top — an enormous platform heel wrapped in silk printed with pictures of Louboutin himself. Plenty here for Rihanna, but also plenty for non-Rihannas, too. Speaking of Marc Jacobs … there's a pair of men's boots with a little Lucite heel that would be perfect for him.
9 p.m. After a quiet afternoon, there's a dinner at Eddie Borgo's apartment in the Palais Royal. Everything smells like Cire Tirudon candles, and the tops of the trees are lit up out the windows.
Sunday
10 a.m. The Kenzo show is in something called the "Maison de Judo," which it turns out is an enormous Dojo in the 14th arrondissement. All week I have been floored by the number of people I've seen in Paris — at the shows, out and about — wearing Kenzo logo sweatshirts. That tiger has been getting around! And it felt like these many, many usually young fans of Humberto Leon and Carol Lim showed up this morning to support their new favorite house.
On the way in I see a white seamless setup with people lining up for portraits and feel a pang of "excuse me!" nostalgia for my many years on the Lookbook — it's our old setup exactly.
Inside, the show is set against a beautiful and mammoth video installation of prints from and in complement of the collection, which is heavy on references to the house's jungle-themed past. Lots of safari suits and colors.
On each seat was a box full of Momofuku cookies. I hoard a few for Azzedine, my driver, whose wife is still talking about the Magnolia Cupcake from Kenzo's last show.
This, I say to Azzedine, is actually delicious.
11:30 a.m. I sit in the unbelievably beautiful Paris sunshine at the Tuileries while my daughter moves from the carousel to the playground and back again. Paris is crowded — it feels like there's never been so much life in one single city on one single day. The streets are teeming, everyone is dressed up and everyone, it seems, is in a fantastic mood.
1 p.m. Glass of peach nectar handed to me as I walk into the Céline show in an hotel particulier on the Avenue Foch. The first thing I notice is the shoes: birkenstocks lined in fluffy white mink. And then, of course, there are the clothes, which are far more restrained in scale than they have been in recent seasons. I like the shift, and the collection, very much, particularly the tailored tuxedo pieces towards the beginning of the show, and the wrapped silk tops near the end.
2 p.m. Driving to an appointment in the Marais, I pass an open market on the Rue de Bretagne where I get the last raspberries of the season. The whole thing feels an awful lot like Brooklyn.
2:30 p.m. Appointment with the cashmere designer Denis Colombe and his wife and partner Erica Lennard at the Galerie Sit Down. Every season I swear the shawls and sweaters and blankets and wraps are somehow softer, the colors even more beautiful. This time, Brazil served as inspiration and the result is extra vivid. My favorite new additions are the tie-dyed scarves, and the oversized, striped cashmere sweater.
4 p.m. Hermès shows in the Jeu de Paume museum this time around. Although they're not known for their ready to wear, Christophe LeMaire is doing a really beautiful job of things lately. I still am in love with the Russian prints from last season, which have migrated from the runway to the bodies of half the Hermès staff. In terms of new things, there's a perfect white shirt dress, and a great trench coat on the runway. There are also endless pairs of leather shorts, which have been everywhere in every city.
5 p.m. Hermès is so efficient that I am early for my Jerome Dreyfuss appointment at the enormous accessories tents in the Tuileries, which means that I miss Jerome himself, who is house-hunting with Isabel Marant, his wife. I think how much I'd like to see the houses that that couple buys — a tiny glimpse of their loft on the Coveteur last month got me hunting for a very specific kind of houseplant.
Dreyfuss always names his handbags after French men because he says they are like lovers and that every woman should have a few. This season he introduces "Johan," among others.
8 p.m. At the Givenchy show, all of the PR girls have had their hair slicked back like that old Robert Palmer video. It matches the runway hair in its extremity. The clothes are particularly beautiful: big shoulders and nicely contrasting moments of hard (metal details on shoulders and necks) and soft (flowing organza).
9 p.m. Desperate for a cheeseburger, I stop at the Castiglione, which is packed for a Sunday night. For reasons I don't quite understand, there are huge groups of American women everywhere (not anyone I've ever seen at any shows), and everyone seems to be wearing incredibly high shoes and carrying incredibly expensive handbags. It almost feels like the restaurant at a Neiman Marcus in Houston, but with nicer lighting and far more steak tartare.