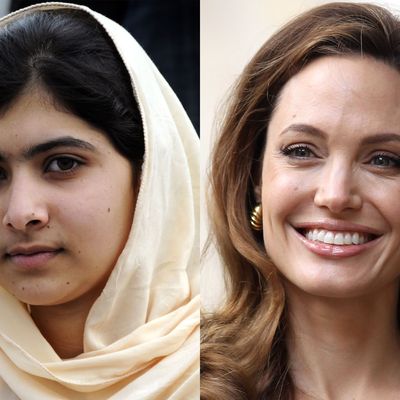 Photo: Landov, Getty Images
Angelina Jolie wrote a Newsweek/Daily Beast column about 14-year-old education activist and Taliban shooting victim Malala Yousafzai. In "We All Are Malala," she discusses the story through her children's eyes:
Our 8-year-old suggested that the world build a statue for Malala, and fittingly create a reading nook near it. Our 6-year-old asked the practical question of whether Malala had any pets, and if so, who would take care of them? She also asked about Malala's parents and if they were crying.
By my calculations, that would be Pax proposing the reading nook and Shiloh worrying about pets. Angie's article concludes with a call for recognition: "As the Nobel Committee meets to determine the winner of the Nobel Peace Prize, I imagine brave Malala will be given serious consideration."
Now the only question is whether Newsweek will put Angie on next week's cover, and how provocative the magazine's oft-provoking art department would dare go. Since it's only Tuesday, though, unless Newsweek has more Angelina up its sleeve, I suspect we will be deprived.