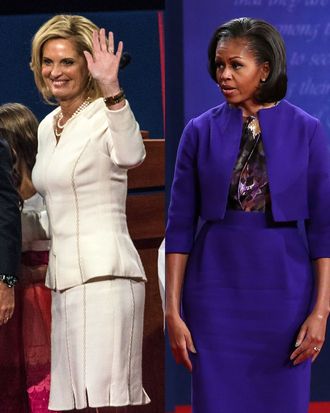 Michelle Obama and Ann Romney.
Photo: Getty Images
Last night's presidential debate culminated in awkward onstage hugs between both Romneys and both Obamas, marking the first time that Michelle and Ann have come face-to-face during this campaign season. Who knows what was said during their embrace, but it very well could have fallen somewhere along the lines of "Don't you look nice," because both of them did. Read on for a full breakdown of their prim, First Lady-like looks.
Ann Romney: Last night was arguably the best she's ever looked. Her cream skirt suit, which her press secretary confirmed to us is designed by Alfred Fiandaca, had vertical seam detailing that emphasized her waist. The jacket's hem flared slightly at the hip and curved down into a subtle point in the front, elongating her silhouette. The zipper fastening allowed for a slightly open neckline, which made her look less stiff than the lapels she usually wears. She also wore her trademark pearls. Her matching skirt hit right at the knee (allowing plenty of length for temple garments, should this be a concern), and had the same flattering seam stitching as her jacket. But what really made the suit interesting was the awning-style flap pattern of her skirt's hem, which was an unconventional skirt-suit touch. She definitely put some effort into elevating her style tonight, surely because she knew she'd be compared to Michelle, and it paid off.
Michelle Obama: Michelle's choice to re-wear a royal blue skirt suit from Preen's fall 2011 collection was an interesting one. She looked nice, just as she has when she's worn the same outfit twice previously, as noted by blogger Mrs. O. It was interesting that she decided to cover up her arms — perhaps due to temperature more than anything else, as it's starting to get chilly in Denver. Perhaps she didn't wear a more crowd-wowing outfit because she didn't want to draw too much attention to herself; it's not supposed to be her night, after all. Anyway, she was quite covered up, with a high neckline and boxy-cut jacket with elbow-length sleeves, but her matching skirt fit perfectly and she looked very appropriate. (It bears mentioning that Preen, which showed in New York from 2007 to 2012, returned to London this season, although their move could be attributed to designer Thea Bregazzi's pregnancy; in any case, their 2011 collection was still "American," if we're going to nitpick.)
Related:
Mormon Chat Forum Dissects Ann Romney's 'Garments' (or Lack Thereof)
Ann Romney Broke Out Her Biker-Baby Outfit for Leno
Dressing to Stump: Ann Romney's Campaign Style