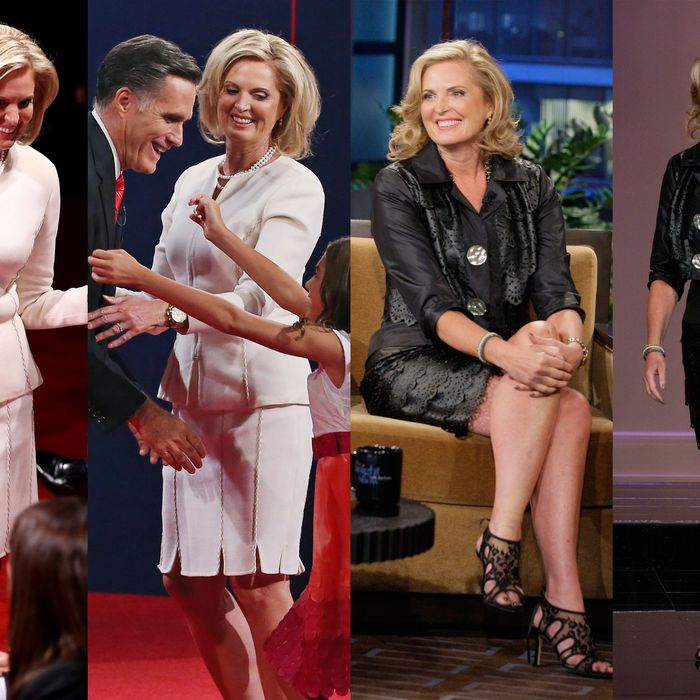 With a few notable exceptions, Ann Romney usually avoids wearing recognizable designer items, making it nearly impossible to identify much of her wardrobe. So when we learned this morning that the cream skirt-suit she wore to last night's presidential debate was made by a New York–based designer named Alfred Fiandaca, we gave his office a call. Fiandaca himself was not immediately available for comment, but his rep told us that Ann has been buying his clothes off the rack for over a decade. In fact, the outfit she wore last night was from 2006. Fiandaca is also behind the lacy black leather she wore on Leno last week (also known as Ann's biker baby outfit), in addition to many other garments she's worn on the campaign trail.
While Fiandaca doesn't currently sell his clothes online or in any department stores, he does have boutiques in Boston and Palm Beach as well as a Garment District atelier where customers can shop. (All his clothes are manufactured in New York.) His rep described Fiandaca as "apolitical," noting that his clothes have been worn by just as many Democrats as Republicans. His clients have included Nancy Reagan, Muriel Humphrey, Ladybird Johnson, multiple Kennedys, and — last but not least — Princess Maria Pia de Savoie. Ann buys his designs from the Boston boutique, but now that she's so high-profile Fiandaca insists on her getting them specially tailored by his staff. "Everyone in the atelier just loves the Romney family," his rep said. "Mrs. Romney is just lovely." 
Other Fiandaca facts: A Boston native, he's the third generation of his family to work in the garment industry, and was educated at FIT. He founded his line in 1960 and has dressed many a celebrity in his time, including Audrey Hepburn, Julie Andrews, and Anita Baker. In 2000, the Massachusetts College of Art did a retrospective exhibit on his 40 years of work. He splits his time between New York and Palm Beach.
Related:
Ann Romney and Michelle Obama's Debate Outfits: An Analysis
Ann Romney Broke Out Her Biker-Baby Outfit for Leno
Mormon Chat Forum Dissects Ann Romney's 'Garments' (or Lack Thereof)