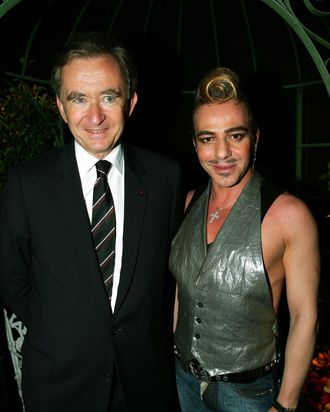 Photo: Eric Ryan/Getty Images
The (British) Observer sat down with Antoine Arnault — son of LVMH's Bernard, boyfriend of Natalia Vodianova, and CEO of Berluti — to talk about £1,000 boots, watching Bill Gates buy three Picassos, and his family's business. Either Antoine or his sister, Delphine, are likely to become Bernard's heir, writes Alice Fisher; Antoine, for his part, said: "We work hard … We were raised with real values about the importance of work and respect for the people. We're not in the gossip magazines playing strip billiards." Prince Harry burn!
Of his dad, the King of France, Antoine remarked:
[T]he most important thing he has learnt from his father is the ability to communicate with designers properly — and that this is a key skill in the fashion business. "I'm sorry, but designers are not artists. They may have the talent of one, but if they want to work in that way they should paint or sculpt. Here they're working in business and they need a brief. That's what my father does so well. I've witnessed him do it countless times and I'm really inspired by that. You know, towards the end, my father just couldn't talk to John Galliano at all, it was impossible — he wouldn't listen to anything. At that point, it crashes."
Sorry to leave you on a sad note.