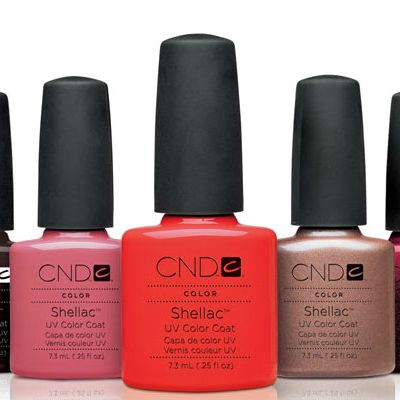 Q: I usually like to get Shellac because I think it's better for my nails, but my manicurist told me it's the same as a gel manicure. What's the difference?
A: Like Coca-Cola and Pepsi, these two are practically the same. All "gel" manicures — whether brand-name or not — have very similar technical properties: UV light cures and hardens the polish, which makes it last up to two weeks. The downside of this durability is that removing these varnishes requires an acetone finger-bath.
The one difference is that Shellac, created by nail-polish company CND, uses a formula they call a "Power Polish," which is basically a blend of UV-cured and regular nail polish. Unlike other gel polishes that dry down to a thick, turtlelike shell on nails, Shellac paints on less goopy and appears a bit thinner, like your everyday manicure. The removal process for Shellac is also slightly different in that CND sells their own acetone wraps, which isolate the powerful remover to just the nail-bed area so you don't have to entirely soak your fingertips in a bowl. This saves your fingers slightly, as acetone dries out nails and skin.
Whichever you choose, don't forget to apply sunscreen to the backs of hands prior to sticking them in a UV lamp, which emits harmful rays. Once you remove the polish, use nail oils and creams to keep your hands hydrated and healthy.