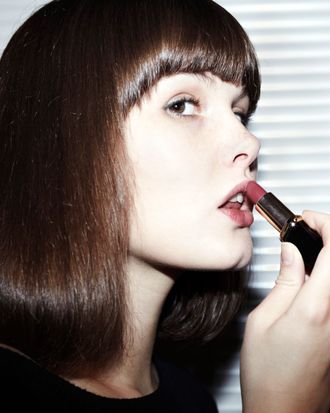 Q: What's the best way to reapply lipstick and avoid end-of-day buildup?
A: The easiest way to look like the clown from Stephen King's It is by piling up your initial application of lipstick throughout the day. With a matte one, your lips will inevitably lose moisture, so each swipe across your flaky, dry mouth will result in more inconsistent coverage. Cream-based pigment tends to stick to the outer edges of your lips, which are dryer, causing an unwanted lip-liner effect as you add a new layer.
Instead, you should wipe off lipstick completely, dab on some lip balm to smooth chapped lips, then reapply. "I find that it's best to remove all the residue," says Tim Quinn, a Giorgio Armani makeup artist. He carries Garnier's makeup remover wipes in his kit for this purpose, then reapplies color using a lip brush, which offers more control than the stick itself.