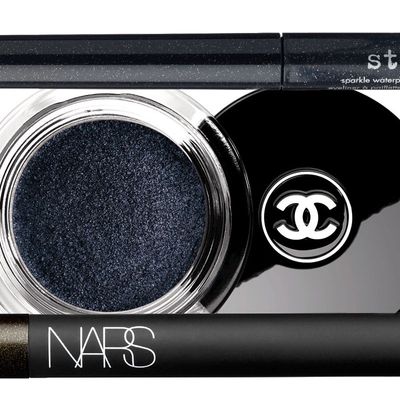 Q: I like the look of glitter eyeliner, but fear it might be a little too much for a regular day. Should I even be testing those waters?
A: Here's a checklist for wearing glitter/sparkles/crystal doodads on your eyelids: 
1. Do you time travel? Prefer to spend most of your days in the eighties?
2. Is RuPaul your mentor?
3. Is your name Honey Boo Boo?
4. Were you a model in the Christian Dior Spring 2013 show?
If you answered no to any of the above, but still can't be deterred from jazzy eyelids, it's best to keep the glitter on the smaller side and go for a more subtle shimmer that will add the faintest touch of sumthin' sumthin'.
Stila Sparkle Waterproof Eyeliner in Sequins ($22, Stila)
This true-black liquid liner appears fairy-dusted with silver. When applied close to the lash line it adds just enough twinkle, without distracting from your eyes.
NARS Soft Touch Eyeshadow Pencil in Aigle Noir ($24, Nars)
Tiny gold flecks dot this soft, black-brown pencil. Wear it all-over the lid like a glimmering coat of shadow or layer it over a matte palette to add depth.
Chanel Illusion d'Ombre in Apparition ($36, Chanel)
Anyone can wear navy, and this cream goes on quite sheer upon first application. If you want fuller coverage, keep on layering the pearly particles. The results magically remain chic (the power of Chanel).