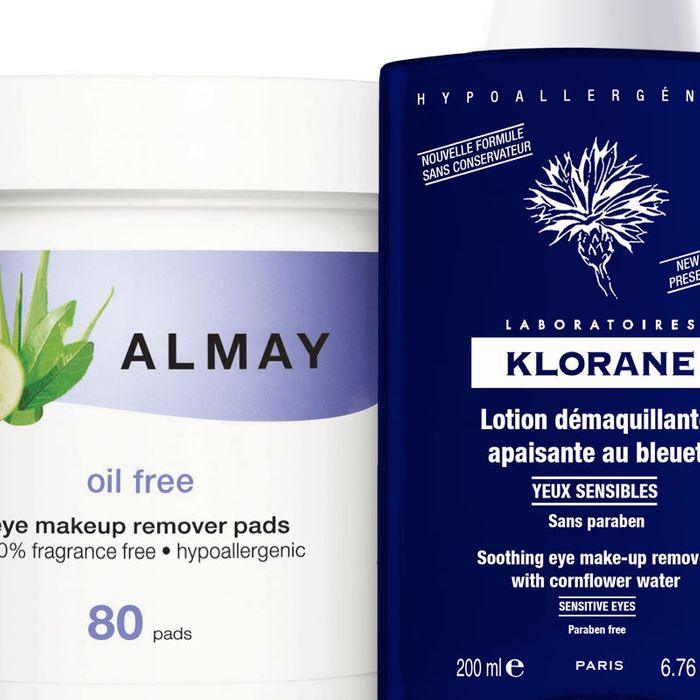 Q: What's the best eye-makeup remover for sensitive eyes?
A: It sounds counterintuitive, but the best option for cutting through the smokiest of eye makeup is an oil-based remover. Unfortunately they leave a greasy slick on your eyelid. For people with sensitive eyes, the leftover sludge can run into the eyeball or cling to lashes, causing irritation unless also washed off with water. As an alternative you can try Almay's Oil-Free Eye Makeup Remover Pads. The hypoallergenic, fragrance-free cotton pads remove the most stubborn shadows, liners, and mascara with just a couple easy swipes. Waterproof mascaras will take a little more coaxing, but the blend of green tea, camellia, and aloe leaves skin feeling soft and hydrated without a trace of residue. The pads can even rub directly against eyeballs (to get to that tough, lash-hugging inner liner) without causing any redness. 
If you prefer a liquid option, try Klorane's Soothing Eye Make-Up Remover with cornflower water (there's a version for waterproof makeup too), a mainstay backstage during fashion week. Saturate one cotton ball and place over eyelids, then gently wipe off all makeup. Because the pH of it actually matches your tears, you will feel no pain, promise. You can also use a Q-tip doused in the liquid to remove any makeup that has gravitated into corneas.