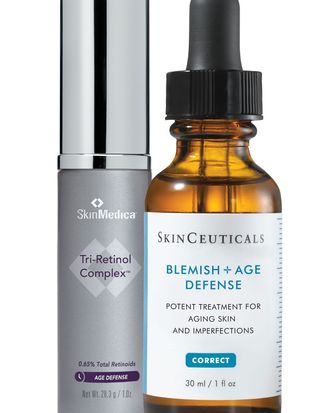 Photo: Courtesy of the retailer
Q: Why do blemishes reappear in the same spot over and over again?
A: Sometimes it really does seem like a particular zit is out to get us. You think you've popped it (bad, bad, bad!) and won the battle, when just a few weeks later another rises from the ashes in what seems like the same exact spot. Well, according to New York based dermatologist Anne Chapas M.D., that one blemish isn't in fact moving in on the same plot of real estate on your face, because there are too many pores to isolate just one. "It's more likely that blemishes occur in recurrent spots due to external factors, such as wearing a hat or helmet, resting on a hand, sleeping on a certain side or talking on a phone," she explains. "That causes pores to occlude and pimples to form."
"Mechanical exfoliation, retinol, or salicylic acid products used regularly can prevent pores from clogging," she recommends. To decongest pores, try SkinCeuticals' Blemish+Age Defense. It's an oil-free daily treatment that uses a solution of glycolic, dioic, salicylic, alpha-, and beta-hydroxy acids to tackle a variety of skin issues from fine lines and wrinkles to hyper-pigmentation, and most importantly in this instance, reduce excess sebum production and acne. Also Chapas-approved: SkinMedica's Tri-Retinol Complex, which not only uses Retinol to exfoliate skin, but also has vitamin A to give the skin a rejuvenated appearance. But if you go down the Retinol route, don't forget the sunscreen, because products like these tend to make your skin much more sensitive to the sun's rays.