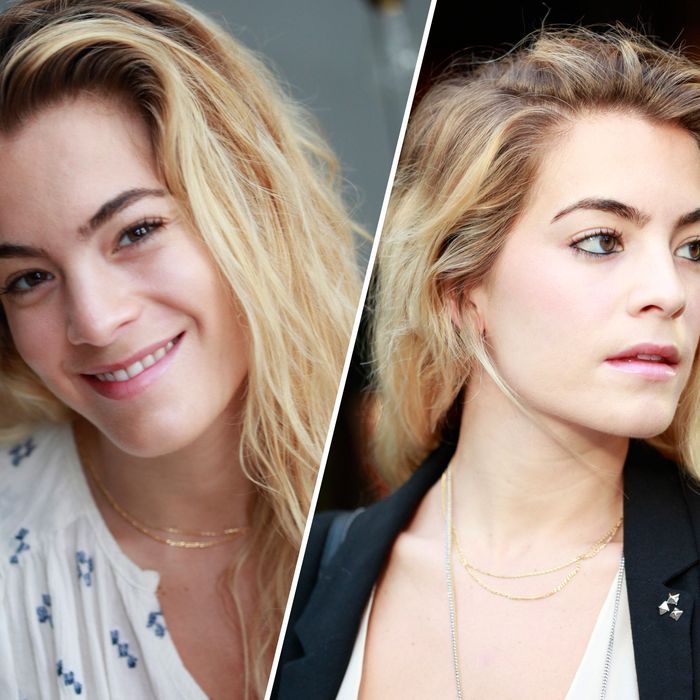 During New York Fashion Week, Chelsea Leyland spun records at over a dozen events, including Suno's after-party and Naeem Kahn's runway show. The British D.J., who always travels with two makeup bags, could have been just as happy reporting on all the week's beauty looks. "I have so many products," she confessed to us. "I tell my boyfriend about each new thing I get, and he thinks I'm crazy." She picks up tips from friends ("MAC's Strobe Liquid makes skin look dewy"), gladly dispenses advice, ("Damone Roberts is the best eyebrow guy"), and believes in the power of raw, virgin coconut oil to take off makeup.
10:00 a.m.
I washed my face this morning with Caudalie cleanser since it has no chemicals and is gentle on my skin. Afterwards I use Weleda's Wild Rose Smoothing Day Cream. I love this brand because there's no crap in it. It's 100 percent organic, no parabens. Everyone I know who has babies uses it on their babies, which makes me swear by it. I try to use all organic products.
10:10 a.m.
My hair is curly and naturally dry, but on top of that I put in highlights so it's really, really dry. I use Moroccanoil shampoo because I love the way it smells and then glob on this very thick Matrix conditioner and comb it through. That's the only time I brush it all day. Washing my hair is what makes this whole morning process so lengthy, rather than doing makeup. As my hair is drying, I'll spray in It's A 10 Miracle Leave-in Conditioner. It's got protein in it, which the hair really needs when it's screwed up.
11:00 a.m.
I always — in the morning, before I go to sleep, and throughout the day — cover my lips in Lucas's Papaw Ointment. It's the best stuff ever.
5:45 p.m.
In the evening, I wash my face again because New York is disgusting and I think that it makes my face dirty. I use the same Caudalie cleanser, but will put on Weleda's Iris night cream because it's thicker and makes your skin feel dewier and more nourished. Then I'll roll Tata Harper's Replenishing Nutrient Complex on my cheeks just to give them more moisture and a dewy look. It's funny, because some girls blot their face for oil, but I actually like to have a little glisten. I think it makes you look fresh.
5:50 p.m.
Instead of putting on foundation, I'll apply Laura Mercier's concealer with this really good brush I got from Sephora. I soak the ends with a little hot water, which is a trick I got from watching makeup artists do my makeup. Then I just put a tiny bit around the sides of my nose and on my chin, just where I'm a little bit red. Putting less stuff on makes your skin look nicer. That's kind of the key.
5:53 p.m.
I put Benefit Dandelion blush on my cheeks for just a little bit of color. Up until six months ago, I only used clear mascara. Now I'll put on MAC's False Lashes mascara. It just kind of separates my lashes and doesn't look too heavy or gloopy. Then I'll put on cK One's double-ended eyeliner in Genius/Radical. The other end is white, which I'll sometimes put on my lower lash line, but today I just used black all the way around my eyes. Finally I brushed my brows with a little brow brush and put more Papaw on my lips for a natural shine. Every girl I know has it and loves it.