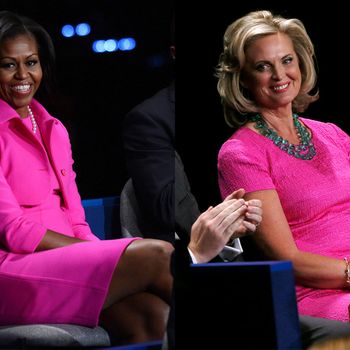 Michelle Obama and Ann Romney, wearing pink on Tuesday.
Photo: Getty Images
Both Ann Romney and Michelle Obama wore Pepto pink at the second presidential debate last night, presumably for Breast Cancer Awareness Month, but also perhaps to show their solidarity as ladies. Sadly, they didn't venture a hug like they did last time, which is too bad because it would have generated a gorgeous photo op and surely some great GIF fodder. Instead, photographers were left scrambling around the room trying to angle their cameras in a manner that would capture both women at the same time.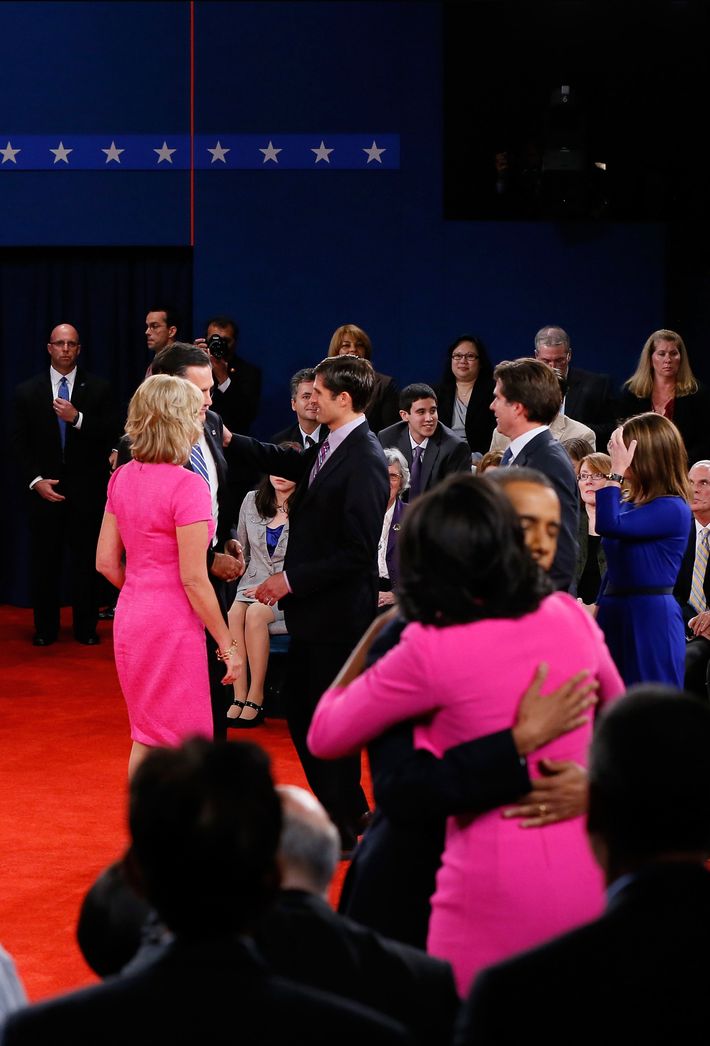 But even though they both wore the same color, and even had their hair in the same style, there were quite a few differences between Ann and Michelle's outfits. Our analysis:
Michelle: This Michael Kors outfit is a very similar silhouette to the Preen ensemble she wore to the first debate: a fitted knee-length skirt, high neckline, and a cropped jacket with three-quarter sleeves. While the color looks great, this outfit isn't the most flattering look on her. The length of the jacket looks dated, and makes Michelle appear a little boxy. Just as we suspected at the first debate, she may have chosen a relatively unexciting outfit because she didn't want to steal the spotlight — this was not an appropriate forum for sleeveless Tracy Reese, in other words. She accessorized with a single-strand pearl necklace, which looked very classic and also leads us to believe that her people were in touch with Ann's people, since Ann usually wears pearls and last night she didn't.
Ann: This pink dress was more fitted than she usually chooses. In fact, her tailored sheath looked much more like something Michelle would normally wear, and vice versa, no? It seems to be made of textured fabric — some sort of tweed or brocade, maybe — with short sleeves and a knee-length hemline. Meanwhile, the double-strand necklace made of green glass beads looked modern and unexpected with the dress. Her hairdo was a marked improvement over the first debate, where it looked a little helmet-y; this time, it fell in soft waves.
Update: Ann Romney's press office confirms that her dress is by Oscar de la Renta.
Related: 
Ann Romney's Favorite Designer, Alfred Fiandaca, on Temple Garments and Who He's Voting For
Ann Romney and Michelle Obama's Debate Outfits: An Analysis
Michelle Obama and Ann Romney's Awkward Onstage Hug, in GIF Form