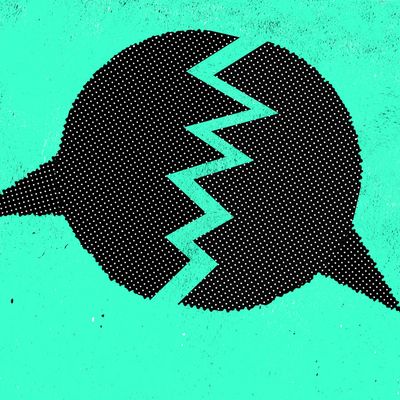 Summer is a successful engineer with a job in construction. Del is a Colin Farrell look-alike with a million odd jobs — including deliveryman for a diaper service — and even more opinions. Two years after the end of their one-year relationship, they reunite to discuss the end.
SUMMER:
We met because we were next-door neighbors. Del knew my roommate and came over to play basketball with him. He was wearing the most ridiculous outfit I've ever seen: this awkward sweatband, with aviators, American flag boxing shorts, knee-high socks, and high-tops. I was hung-over on my sofa. He walks into the front door, and I'm like, Who is this crazy man?
DEL:
Summer was there on the couch. I had my regular basketball gear on, and she was being a smart-ass. But I liked that clever, witty thing about her. I was like, I gotta hang out in the apartment more often, because I didn't even know she existed!
SUMMER:
I didn't think much of him at first. Then we had a rooftop party and Del brought a toolbox to help fix my roommate's bike. All the nuts and bolts spilled, and we were on the ground, laughing, trying to collect everything, and something just happened. I saw him in a new light. 
DEL:
We had similar enthusiasms and curiosities. We both try to be very useful people, can-do attitudes. She's a real ass-kicker.
SUMMER:
We were both interested in everything! Cars, mechanics, whatever. He's a really interesting guy. He has a woodworking job and a night job delivering cloth diapers. Our first official date was a car show at the Javitz center. He took me on his motorcycle, and I kissed him for the first time that night. We walked outside and had this awkward moment, so I just kissed him. He's not the first-move guy. He's too shy.
DEL:
She pushed me up against a truck and kissed me. I'm not shy at all, but I do appreciate boldness.
SUMMER:
It took a little while before we started sleeping together, which was actually nice. It was about more than that, you know?
DEL:
I moved slowly physically because, for a couple months, I was dating Summer and another girl. But after Summer and I slept together for the first time, I told the other girl that I was going to be a one-woman man.
SUMMER:
He took me to meet his family really early on. They're all famous intellects. You sit in a room with them and automatically you feel like an idiot. Luckily, I'm the type of person who can laugh about how stupid I feel.
DEL:
She fit right in. She bonded with everybody. You never need to babysit Summer.
SUMMER:
I referred to him as my boyfriend for the first time when I was at work. Later that night, I said, "I called you my boyfriend today." He was like, "Um, I've been calling you my girlfriend for weeks."
DEL:
I think she told me she was calling me her "man of interest." There was never any conversation about official titles.
SUMMER:
Did I think I'd marry him? I don't know. I'm too level-headed to think that way. Plus, gender roles really bother me. I mean, I work in construction; I studied engineering.
DEL:
I don't know if I'd call it "cold," but Summer's self-reliance was always a little hard for me, even though I'm self-reliant, too. Like when she was moving, she hired movers, even though I worked as a mover with a truck on Craigslist.
SUMMER:
I knew I wanted to see more of the world and that doing so probably didn't fit into Del's paradigm. It's really important to me to experience everything I can in life. I guess I don't really know the difference between really enjoying someone and loving them yet.
DEL:
Was I in love with her? I never felt like I needed her to survive, but I definitely felt like we were supporting each other in substantial ways.
SUMMER:
I started thinking about moving abroad for a few months. Del and I have very different opinions about how to experience the world. Every single thing Del does is based on some philosophy, some larger world model. It's really interesting, but it's also incredibly frustrating. He vastly prefers to grow an immediately local community, whereas I gain perspective by pushing myself outside of my comfort zone and seeing what else there is out there.
DEL:
At the core, I wanted to start a commune, but she was an army of one. One of my philosophies is that there's an infinite amount of things to see right at home. I just want to hang out with my friends, doing hobbies, making the same jokes that I made last week. That's an actual choice that I'm aware of. I don't want all that transient, world-travel stuff, and I don't understand why Summer does. I don't feel like I'm a detachable thing that can be separated from the rest of my life.
SUMMER:
Almost a year into things, I got really unhappy at work and just wanted to get away. I didn't notice how bad my complaining was, but I guess Del did. Things went downhill really fast.
DEL:
Her unhappiness with work was becoming contagious. And I was no James Bond about it, even though Summer deserves a gentleman. I was crude and intentionally offensive at times, even when she needed me most.
SUMMER:
One day he hesitated kissing me good morning. He can be moody, so I didn't pay too much attention, but in hindsight …
DEL:
I decided I needed to break up with her the night before I did it.
SUMMER:
We were driving around delivering diapers, and out of the blue, he was like, "I have something to tell you, and I think it's going to be a shock: I don't think we should date anymore." I'm stuck in the middle of god-knows-where Brooklyn, and all I wanted to do was escape. So I just got out of the car. He might have said other things, but it's a total blur.
DEL:
I knew it was right, but I was still shaking. She walked home that night. When things are too much for her, she walks away.
SUMMER:
I'm not a crier. I didn't call anybody. I internalize things. His mind was made up, and I knew it. There's no talking him into anything.
DEL:
Had she fought for us? I don't know. 
SUMMER:
I guess Del knew we were better as close friends before I did.
DEL:
Soon we started hanging out as friends again, even though she'd get upset sometimes. We shared so many rituals and hobbies; we still needed each other. I needed her to build robots with me. 
SUMMER:
The breakup inspired me to quit my job and move to Europe for three months, on my own. It was the most incredible time of my life. The distance gave me a lot of perspective. And when I called Del from Hamburg for his birthday, I could tell he had a new girlfriend.
DEL:
When she came back from Europe, she had a glow. The thought of reconciliation crossed my mind, but the dominant thought was that our friendship was working. Plus I was with someone and happy. 
SUMMER:
He's like my brother now. We're still very intimate, but in a non-romantic way. I like his girlfriend. She's nice. I think she satisfies him in a way I couldn't — she's a little out of the box. I'm more of a caregiver; I like making sure the person is happy. She's maybe less like that.
DEL:
My new girlfriend and I have the same spirit. We're also in an open relationship. She's bisexual and working on becoming a professional dominatrix.