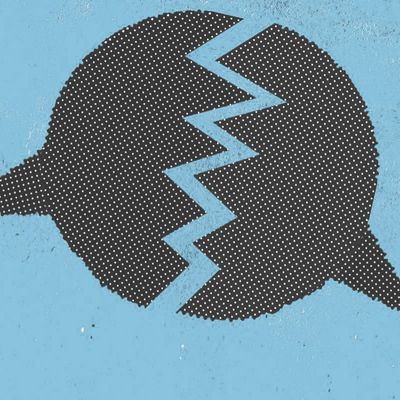 Luke is an award-winning architect who spent years as a party animal, always leader of the pack. River is the sexy free spirit who fell under Luke's spell. Six years after their split, they come together to remember the relationship. 
LUKE:
We met at a gay bar in the Village. He had his hair in cornrows and [had] the most unique features. He was strikingly beautiful. I just prayed he was actually gay and into white guys. Usually I'm shy, but I had to walk over.
RIVER:
I'll never forget it. I was just getting out of a relationship and not looking for anything. Then Luke walked by and my life changed. I said, "You're cute." And he was like, "Oh yeah?" And that started everything. 
LUKE:
The second we spoke, I knew instantly we were going to be together. The record scratched; I was done.
RIVER:
This boy — I loved him more at that moment than I've ever loved anyone before. Or after. Or even until today. 
LUKE:
Yes, I was lured over based on his looks, but within a second, I could tell he had this profoundly sweet, gentle nature. He said he was half-black and half-Jewish. We got wasted together. We made a date. 
RIVER:
I was so fucking nervous for our date. He's the kind of guy that everybody wants to be near. I wasn't sure I could keep up. 
We met at the Standard 24 hours later. First I went to French Connection to get a new shirt. I was so anxious that I left the tags on, and he busted me right away. He was like, "Soooo, you're returning this tomorrow?" Everything with him was always so fucking funny.
LUKE:
This was two years before I got sober, at the height of my using and drinking. River fell quickly into my group of friends, a pack of wild beasts. It was the summer of music, parties, laughter, and debauchery. We were at the core of it all. 
RIVER:
He was the first man to hold my hand in public. Even in a straight area. He told me it was okay. I can't even explain how good it felt. 
LUKE:
River moved in almost immediately. I lived in this dirty-chic loft in Soho. Everything was chaos. River was totally game. We went to every opening, dinner, movie premiere — whatever was the next big thing. But it wasn't really about that; it was really about the drugs. 
RIVER:
As long as he was near me, I didn't care what we were doing. Mostly it was fun, but I couldn't get rid of his drugs and friends. Sometimes I just wanted him alone. But he wasn't ready for that. 
LUKE:
I went to meet his family and had a very powerful experience. They had such spirit. Unlike my dysfunctional family, they were just happy to be alive. His mom was this amazing woman, a soulful, dark-skinned chick. And his dad was this funky Jewish guy. I saw similarities between us and them, and it made me feel really safe. 
RIVER:
Child, my mother fell in love with him. 
LUKE:
River was dyslexic. I started helping him build his career, boosting his confidence. I totally believed in him. 
RIVER:
I'm very dyslexic. I don't have a big vocabulary to keep up with Luke, intellectually, and it made me insecure. I always felt like he eventually wouldn't want to be with me because of that. 
LUKE:
The problem was, back then, I had a real knack for turning people into — well — drug addicts, basically. I just wouldn't take people into my life who couldn't party. 
RIVER:
Coke wasn't my thing. It became my thing when I got with Luke. Sometimes I'd say, "Come on, let's not buy more."  It was the root of some unbelievable fun, but I knew it was killing our relationship. 
LUKE:
In the world of hard partying, you have to allow intimacy. You're up all night. You're holding each other. You're stroking each other's hair. You're saying I love you. Yes, it's fueled by substances, but those moments are still real. 
RIVER:
On our last night as a couple, there was the window incident. 
LUKE:
I may have pushed his head through drywall because he wouldn't shut up about Wendy's honey mustard. It took a couple of weeks for me to realize how bad that was. Things were getting dark.  
RIVER:
He wouldn't get me my condiment. 
LUKE:
I told him to leave me alone, and then I sort of isolated. It was an unspoken breakup. A few weeks later, my 28th birthday, I'd been drinking all day alone. I started texting random people to meet me at this bar. When I got there, it was closed. I had a breakdown. I'm a mess. No one is here. River is gone. I texted him. We had one more fling, and shortly after, I changed my whole life. 
RIVER:
I wasn't mad at him for breaking up with me, even though it was all so vague and confusing. He was the love of my life; I couldn't ever stay mad at him for anything. 
LUKE:
I got sober pretty quickly thereafter. Now the only funny thing is that I survived. The next time I saw River, I had been sober a year. I looked totally different. I was coherent. My world was completely different in every possible way. 
RIVER:
I was so proud of his sobriety. The only negative feeling, maybe, was that I knew the next guy would get the Luke that I thought I'd spend the rest of eternity with. 
LUKE:
I think, more than anything, that I took River hostage. There's guilt there. We've never talked about what happened. I just don't like to revisit that time in my life. 
RIVER:
I kept partying, but not as hard. A part of me was always scared that Luke would find out, and then he definitely wouldn't want me anymore. I dreamed we'd be together again, some day. 
LUKE:
I'll always think of River as the most loving, sweet person. I can just hear him saying, "Hey Luke, baby. How's it going?" He just had so much soul. Just like his mom. Easy laughs. Easy love. 
RIVER:
We're not as close anymore. I got my culinary degree and haven't told him. He'd be proud of me, I think. The first meal I ever cooked was a Thanksgiving dinner for him — and everything I cook now brings me back to those memories. 
LUKE:
I'm six years sober. I'm in a serious committed relationship with someone I intend to stay with for the rest of my life. I think getting away from me allowed River to blossom. He's a better person now, and I smile thinking about that. He deserves pure goodness and joy because that's what puts out there. 
RIVER:
The truth is, I'm not really in a happy place. I'm in a dead-end relationship. My parents are sick.   
Luke's new boyfriend looks adorable and I'm glad for them.
As long as he's in my life in some way, I'll take it. I love that boy. I'd kiss him all over his face if I could.