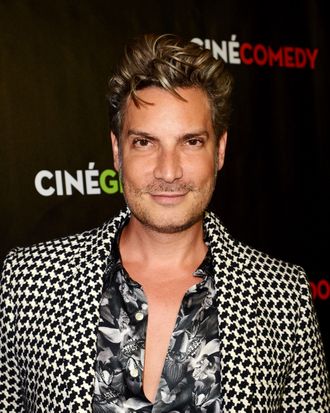 Cameron Silver.
Photo: Jason Merritt/Getty Images
Cameron Silver, owner of L.A. vintage couture boutique Decades*, often gets visited by high-profile designers seeking inspiration. While he prides himself on his discretion, he says that Raf Simons paid him a visit a few months ago. "I taught him about Pauline Trigère. It was like a vintage education. It works both ways — I in turn learn by seeing what the designers are attracted to," he told British Vogue. Speaking of team Simons, Silver said he wasn't a fan of Hedi Slimane's Saint Laurent show. "If you're going to present yourself as the messiah then you better deliver the 11th commandment," he said of Slimane, calling the collection "too referential." He added, "Every girl in L.A. already dresses like that — it was weirdly uninspired."
Related: Raf Simons Versus Hedi Slimane: Who Had the Splashier Debut?
* This post has been corrected: Silver does not, in fact, have any problem with the word "vintage" after all. Carry on.