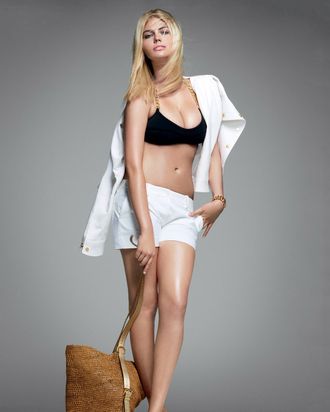 Kate Upton, shot by Steven Meisel for Vogue.
Photo: Steven Meisel/Vogue
Kate Upton first appeared in Vogue in July, the same month that Terry Richardson posted several videos of her bouncing around in a string bikini. It was a pretty hilarious juxtaposition: Vogue called her "Dougie" video "a cinema-verité classic gone viral"and photographed her in a prim knee-length skirt and jacket, while Richardson zoomed in on her boobs jiggling in slow motion.
But Vogue has pressed on, and ran yet another profile of her in their November issue, accompanied by seven-page spread by Steven Meisel, including some obligatory swimsuit shots. Two Vogue features in five months is nothing to sniff at, particularly since Upton has hardly been embraced by the high fashion industry. She was largely ignored throughout fashion month, even though she made no bones about her desire to walk in runway shows in her first profile:
Upton admits that she really wants to do a big, glamorous ad campaign, maybe even more than she fantasizes about the catwalk…
She so far has done neither, but she has racked up a lot of editorial work, including the cover of Carine Roitfeld's new magazine, CR Fashion Book. Usually modeling goes the other way around, with girls starting out on the runway and gradually working their way into magazines, so her career path is quite novel, as Vogue notes. But will all this attention from editors ever translate into a fashion brand?
Upton's career in fashion has already come much farther than most people thought. She first made her name as a swimsuit model – the sexy, Sports Illustrated kind – and even Victoria's Secret deemed her too "Page 3" for their show, basically meaning she was trashy-looking. While some models have managed to straddle the line between Sports Illustrated and high fashion – Miranda Kerr, Anne V., and Alessandra Ambrosio, for example – it seemed at first like Upton would not be one of them. 
So why has Vogue chosen to champion Upton's career? It's clearly related to the magazine's new initiative to use "healthy" models, which officially commenced in July. It may be odd that out of all the fuller-figured models out there, they picked Upton, but at least they've found someone who's bigger than the average sample size. Here's what Vogue writes about her figure:
 … she's not stick-thin. Upton makes a point of eating, sleeping, and exercising – a potential ambassador of fashion-model health, as she sees it. "I don't want to starve myself," she says. "I still want to hang out with my family and be a normal girl. You have to be confident, and that doesn't mean starving yourself."
This is a good thing, of course. Upton is obviously still much slimmer and taller than the average woman, but she's still larger than other models who have laughably been deemed "curvy," like Lara Stone and Gisele Bundchen. But will she make brands and casting agents think differently about the kind of women they hold up as ideals, or will everyone just gawk at her boobs while Vogue congratulates themselves on promoting healthier bodies? Let's all hope for the former, although that'll be a long row to hoe.
Related:
Vogue Weighs in on Kate Upton's 'Cat Daddy' Video
Terry Richardson Made Another Kate Upton Video, This Time With a 'Wardrobe Malfunction'