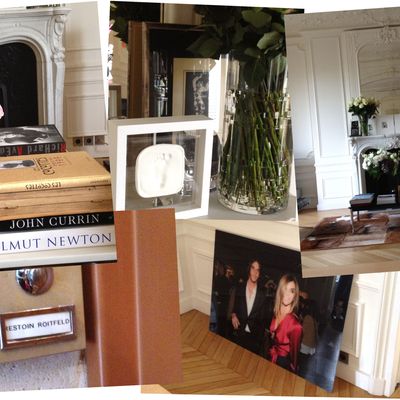 Photo: Caroline Kinneberg
Rarely does Carine Roitfeld invite journalists into her home, a fifth-floor apartment overlooking the pristine lawn at Invalides, but she did just that earlier this week. Along with a handful of other reporters, the Cut sat down with the CR Fashion Book editor-in-chief in her airy living room. Group sigh. Framed images (as well as a mold of her granddaughter's footprint, the first present from Romy to her "babushka") line the mantels or are propped up on the parquet floor; a balcony offers a panorama all the way to Sacré Coeur — "the view's better than paintings on my walls," she says. Though we were there to chat about her M.A.C. collaboration, we got a bit off topic: She ended up telling us about the inner-mouth massages she gets at Joëlle Ciocco in Paris (to relieve jaw tension and make her look relaxed), how much she loves Salma Hayek's defined eyebrows, and doing ballet in order to keep good posture. What follows are the best snippets from our conversation.
On her home: "If I had more time, [my apartment] would be cleaner, less books on the table. For me, it's a bit messy. People say, 'Are you just coming to this apartment?' No, I've been living here for fifteen years! One time, a burglar came to my apartment, so we called the police. My son was here, so I think they left before they tried to steal something. So the police come to the apartment and they say, 'Oh my god, did they steal everything?' I was like, 'No, it was like that!'"
On her homies: "My big friend is Riccardo Tisci. So if I don't wear Riccardo Tisci dress, he's going to kill me. So I am going to be a Givenchy girl tonight [at the ball] … I mix talents and friendship, which is not very professional, but it's my way of thinking. So I love Azzedine Alaïa, because I know him for 30 years, and he's making my dress most of the time. And you know, when you're living in this world of fashion, when you're wearing a dress of Alaïa, usually 99 percent of other designers, they're okay. He's a top. He's like a master, so you have no problem. There's no jealousy … You avoid a lot of problems if you're wearing Alaïa. This is the best dresses that I have, and I keep them. And now I really like Riccardo Tisci because I'm working with him, and I think the last show was so beautiful."
On eyebrows: "Bleaching eyebrows makes me crazy. All the models were bleaching eyebrows. It's burning, you know. I never liked it. So I'm very happy, this [collaboration] is my revenge … I could be Frida [Kahlo]. This is the reason there is a pluck in the [M.A.C.] palette, because I need to take off some in the middle."

Other beauty thoughts: "I'm not confident at all. It is the reason I put the hair on my face … People think I'm confident; I'm not. I'm always shy person. But shy person means you can be crazy, it's a totally different thing … I don't use Botox [for beauty purposes]* because I don't have wrinkles. I'm lucky … Some people say, 'Oh, I'll never do this.' I don't know, maybe in ten years I'll want to do a lift. Maybe in ten years I will go to Brazil and I will do a lift of my neck."

On her day: "So, this day is very special because this week, in plus of the Fashion Week, I have my daughter and my granddaughter at home. So I wake up with a little, say, croissant chaud, it was a little baby … in my bed, which is very nice but makes me late already. But it was like a hot cookie in my bed, so nice, so I stayed a bit with Romy in my bed."
*Carine does, however, get Botox in her jaw muscle to stop teeth grinding at night.