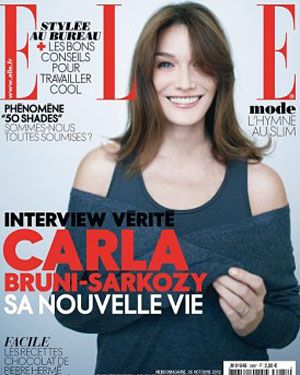 Caaaaarlaaaaa covers this week's French Elle, and inside, she speaks! Sort of to the current "first lady" of France, Valérie Trierweiler. From AFP:
Bruni's right-wing husband had to leave the Elysee palace in May after he was beaten in elections by the Socialist Francois Hollande, who has been in a relationship with Trierweiler for several years but who has not married her. "I think it is more simple to be the legitimate wife of the head of state than to be his companion," Bruni told Elle in its edition to be published Thursday.
She adds, "Maybe I'm wrong and their choice is modern. But for my part I felt a real easing of the general concern about me when I married Nicolas." Nicolas. I feel as though I'm really getting to know her, you know? Carla also explains why she finally broke her six-month-long silence (with the exception of her Hier Encore performance set to uncoordinated audience applause). From French Elle:
First, to close a chapter of my life, then, because — although it's not of major importance — I occasionally need to talk about myself since so many others do it in my place and give false information! Until now, my position hasn't allowed me to express myself freely. Today, I can.
So: thoughts on Mary-Kate Olsen? $1,100 carryout bills? RAF AT DIOR?!