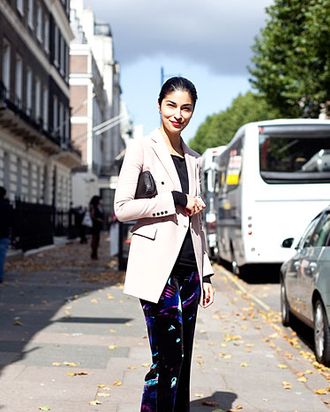 Caroline Issa, noted street style celebrity, occasional model, and publisher of Tank magazine, is working on a capsule collection for Kate Middleton's favorite shoe brand, L.K. Bennett, WWD reports. (Sidenote: When we first scanned this headline, we thought it referred to British fashion line Issa, also one of Kate's standbys, and became wildly excited because that collaboration would be the sartorial equivalent of the Duchess having a baby. Alas, this is a different Issa.)
Anyway, Caroline Issa's collaborative collection will include six pairs of shoes and two bags, reports WWD:
There are sandals, anklestrap stilettos, shoe boots, the kitten heel, a loafer and clutch bags. Embellishments include neon, Thai-inspired embroidery, flowers, zigzags and pom-poms.
Kate will pre-order all the pom-pom items, obviously. Ranging in price from abot $382 to $440, the pieces will be available in stores and online starting on February 19.