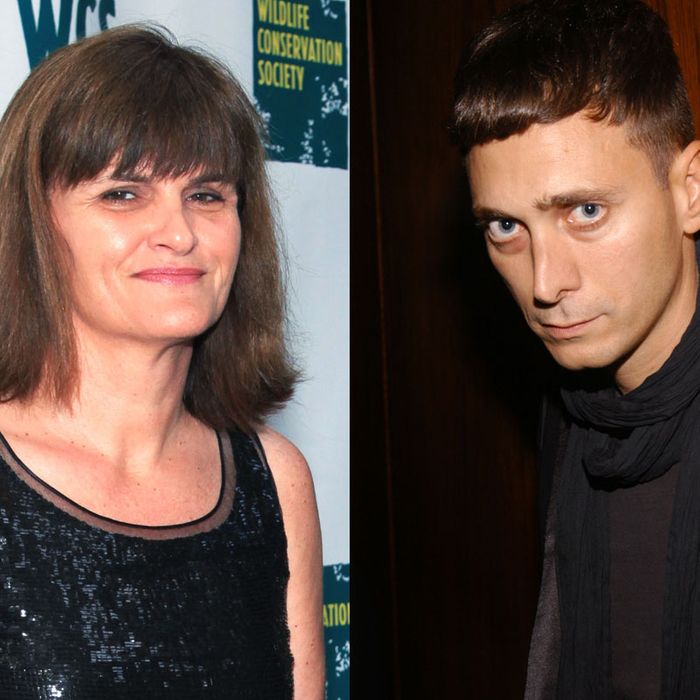 In its roundup of front row sitters at Slimane's ready-to-wear debut in Paris yesterday — including Anna Wintour, French "first lady" Valérie Trierweiler, Salma Hayek, François-Henri Pinault, Kate Moss, and Jamie Hince — WWD points out an interesting omission (aside from the entire Cut staff … WAH!):
Among notable absentees was New York Times scribe Cathy Horyn, though her colleague Eric Wilson attended. A YSL spokesman confirmed Horyn was not invited, but declined further comment.
Horyn, for her part, did not decline further comment. Five paragraphs into her review of the collection, she explains:
I was not invited. Despite positive reviews of his early YSL and Dior collections, as well as a profile, Mr. Slimane objected bitterly to a review I wrote in 2004 — not about him but Raf Simons. Essentially I wrote that without Mr. Simons's template of slim tailoring and street casting, there would not have been a Hedi Slimane — just as there would never have been a Raf Simons without Helmut Lang. Fashion develops a bit like a genetic line.

Anyway, Mr. Slimane insisted that he was the first to show the skinny suit. It was a silly debate. Who cares? As time went on, he also felt (as best as I can tell) that I gave preference to Mr. Simons in my coverage of the men's shows. If I gave him attention, it was because his work and my reporting into the key early part of his career merited it. I haven't spoken to Mr. Slimane in five years.
Well, well, well. We might need to rethink what we previously referred to as a "dubious rivalry" between Slimane and Simons — we so wanted them to be fashion-world best friends, but it doesn't sound like they're going out for hot dogs anytime soon. Horyn says that she spoke to Pinault, who called her lack of invitation "ridiculous"; however, even he couldn't get her in. Not that that stopped her from writing a post about the show, which ends like this:
Considering that Mr. Slimane was an avatar of youthful style, I expected more from this debut. I had the impression from the clothes of someone disconnected from fashion of the past several years. If so, that might be an interesting perspective. But there wasn't something new to learn here. Also, the self-important air of Saint Laurent's media relations — the calls informing reporters that Mr. Slimane wouldn't be taking questions backstage — is out of touch. Meanwhile, its competitors — Balenciaga, Dior, Givenchy, Celine, Lanvin — are having a terrific season.
As for Cathy Horyn? That's debatable.