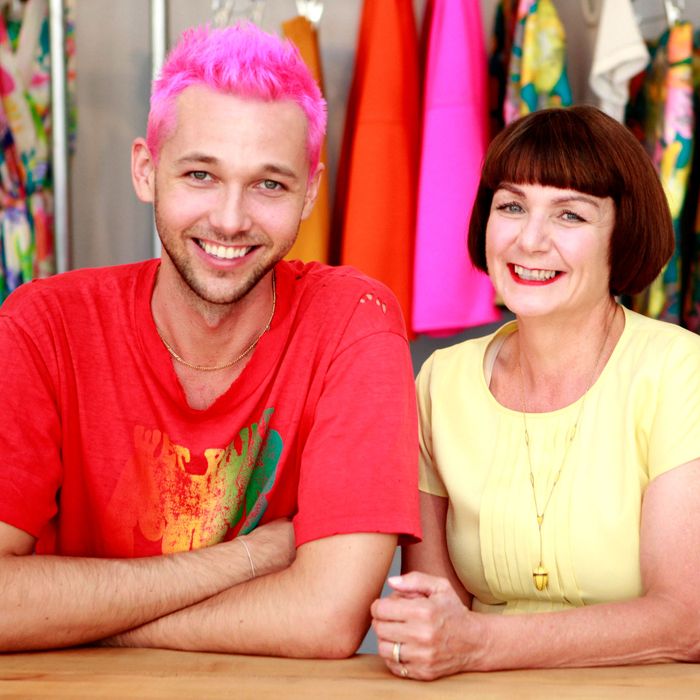 He is known for his technicolor collections shown during London Fashion Week. She is loved by clients including Naomi Campbell, Crystal Renn, and Steven Klein for her skin-saving facials. The two first met backstage at a Benz runway show three years ago, where the facialist was hired to prepare models' mugs for hair and makeup testing. One day, Eileen Harcourt caught a blemish on his face, and the designer has been a client ever since. Here's how the two became fast friends, even as they go months between his regularly scheduled appointments. 
What did you guys first think of each other upon first meeting?
CB: I love how anytime I see you, you get slightly more wack-a-doodle. I think, [when we first met] it was your vest jewelry and something really specific going on with your hair. I remember just thinking like, What a strange thing to do for a living, but kind of magical. I thought that it was sort of like a hairstylist, but not really: It's even more intimate. Then I remember thinking your personality could fill a room.
EH: I loved Chris's spirit immediately because he's just so genuine and embracing. He makes you part of the family immediately. The first day I came in for a hair and makeup test it was like, Oh, it's a new family! It was just amazing right away.
When did it go from you two collaborating for a show to Chris actually seeing you for an appointment?
EH: I think one time Chris had a blemish, and I was like, "I cannot fly by that!" [Laughs.] I mean, like, that seriously upsets me! Immediately, it was like, Here's product, I have to take care of your skin. To me, that was how I felt like I owned Chris's skin.
How often do you guys get to see each other?
EH: Well, Chris has got a really busy schedule. Chris — like a lot of my clients — I might see him a lot during one period of time, and then it might not be for a while. I'm happier if I can see somebody three times a week, because I'm very controlling that way. I know Chris is young and beautiful, and he does his Clarisonic; I know he does. And I have to probably get you more brush heads.
CB: Uh-huh.
EH: … because yours probably have bacteria on them. [Laughs.]
Do you two share life, fashion, or beauty advice with each other?
CB: Such a fun thing that's just kind of happened, having been around each other, is that Eileen is starting to wear more color. When I met her, she really only wore black, black, black.
EH: Black, black, black.
CB: Even her hair is a bit lighter.
EH: Yeah, my hair used to be long and dark. Severe. Black.
CB: I feel like every season it's gotten a little shorter, a little more asymmetric — like, now you have a highlight in the side. I think it looks great.
EH: I'd never ever worn yellow — ever! With Chris, I feel a sense of freedom, more playful. I mean it's like arriving at Playland or something.
CB: Yay!
EH: Yeah, like, Let's go on a ride!
Do you keep tabs on his skin?
EH: I try to, but I'm not a disciplinarian. If he says to me, 'Oh, they gave me something from La Prairie or La Mer,' or something like that, I think I'd have a face and kind of cringe, and think, Okay, we'll just see how it does. I'm not going to be too judgmental. I know he flies a lot; I know he's in a different environment all the time. So he's going to be subject to cold, warm, dehydration, moist heat. He doesn't always … Can I say this? You don't always eat really well.
CB: I don't! I like cheeseburgers. Iced coffee.
EH: This can have an effect on his skin. So, yes, I am aware of what's going on behind the curtain, if you will.