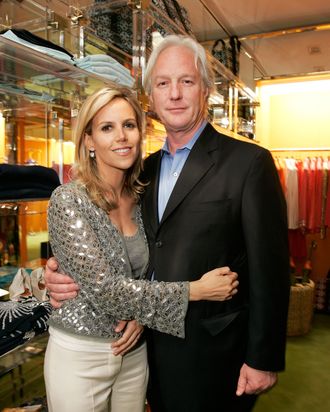 Tory and Chris Burch, in happier days.
Photo: Chris Weeks/WireImage
It seems that ex-spouses Chris and Tory Burch may finally sever their thorny business ties. Today, WWD reports that Chris has filed a lawsuit against Tory herself as well as the boardmembers of Tory Burch LLC and the Mexican holding company that owns a stake in her eponymous brand. He alleges that the defendants have impeded the running of his own business, C. Wonder, and interfered with his attempts to sell his shares in Tory Burch (both he and Tory each own a 28.3 percent stake of the brand). These conflicts are rooted in the argument that C. Wonder competes with Tory Burch, which would give Tory a motive to keep Chris on as a major shareholder (he wouldn't try to compete with her company if he had a major stake in it, after all). However, Chris claims that C. Wonder doesn't compete with Tory Burch at all, due to its markedly lower price points. 
Not only does Chris want to get rid of his Tory Burch shares and move on with his own business as he pleases, he painted his ex-wife in a rather unflattering light in his court documents. From WWD:
As for his ex-wife, he said her prior experience in the fashion industry was limited to public relations and marketing work in the apparel sector, and that she "never operated any business and had never been employed as a clothing designer."

Burch noted his extensive contributions to Tory Burch from his experience in start ups and as a venture capitalist to raise $10 million from outside investors to start the company in addition to his initial investment of $2 million. And while Burch said his significant contacts with suppliers and manufacturers helped with the business, "Ms. Burch, while talented, [did] not have the core business experience necessary to assemble a team of top executives."
What those statements really have to do with his lawsuit remains questionable, but Chris is accusing Tory of tortious interference, a legal term for intentionally sabotaging his contractual or other business relationships. And you thought life after fashion month would be boring!
Related: 
His. Hers.
Tory Burch Reportedly in Dispute With Chris Burch Over C. Wonder