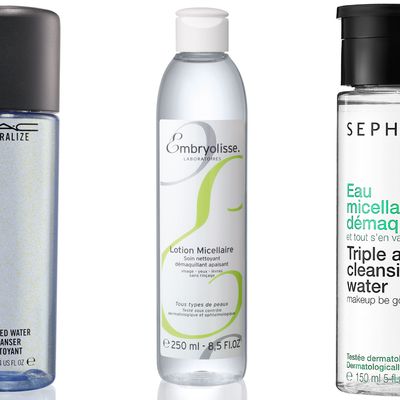 Makeup artists, dewy-faced models, and the entire female population of France have been swapping our their face wash for a new skin-cleaning solution called micellar water  — or just cleansing water at your local drugstore. The special H2O, injected with tiny oil molecules, whisks away dirt, surface oil, and last night's makeup without drying your skin. Just pump the solution onto a cotton pad, swipe it over your face, and emerge clean. No faucet water or lathering needed.
After testing seven varieties, we learned that they work wonders when you feel lazy, even as some of them punished said laziness with a stinging sensation near the eyes. Unfortunately, a few were downright terrible at removing the remains of the day, and you might go through the bottle quickly, so factoring in cost-per-use is key to choosing the right one.
Underwhelming:
La Prairie Cellular Cleansing Water ($90, La Prairie)
While the soft cotton pads provided with the bottle were gentle, the cleanser itself was anything but comforting. It failed to remove mascara from my face, while also leaving a burning sensation on my lids. There's the burn to your bank account, too. My skin felt tacky to the touch afterwards and I immediately had to use a different cleansing water to get this one off.
M.A.C. Charged Water Cleanser ($23, MAC)
Considering how well this brand's makeup stays on, I assumed this product would be equally as effective at removing it. As with La Prairie, I felt a tackiness on my skin after using several pads and it was a struggle to completely remove my mascara. Bonus points for the glittery bottle, which practically doubles as "decor" on my dresser.

Recommended, with reservations:
Sephora Triple Action Cleansing Water ($14, Sephora)
At 13.5 ounces for $14, this was by far the best value among those tested. Used strictly as a makeup remover, it did a satisfactory job taking off the bulk of products on my face. A handy pump made dispensing easy. Yet my skin never felt completely clean despite using several cotton pads, so I still had to wash my face afterwards. I'm keeping this around as a makeup remover, not a cleanser.
Caudalie Cleansing Water ($26, Caudalie)
Known for being gentle on the face, Caudalie has always been a personal favorite for skin care. This didn't disappoint: It removed makeup well and left a subtle minty scent on my face, although there was a slight stickiness that faded over time. Were it not for that, it would have instantly been bumped up in the rankings. 
Nars Makeup Removing Water ($28, Nars)
Unlike the others, this product claims only to remove face makeup and not eye makeup. While I only wear a bit of BB cream and blush, it did decimate the day's remnants quite well. Even though it's not meant for the eyes, I still tried it and soon learned that eliminating mascara would require aggressive scrubbing. My skin felt super clean afterwards, but this one might be a bit too drying when my skin will be less supple in winter.
Highly Recommended:
Koh Gen Do Spa Water ($39, Barneys)
Given its cult status among makeup artists and beauty enthusiasts, this was the product I was most excited to test. With no scent and a thin consistency, it felt like real water on my skin, leaving it refreshed. This would have been my favorite, except it still required a bit too much rubbing to remove my heavy mascara. The cleansing cloths the brand produces are incredibly effective when soaked in the water, though.
All-Around Winner:

Embryolisse Cleansing Water Lotion Micellaire ($32, Embryolisse)
With next to no scent and a slightly thicker consistency than the other waters — almost like actual cleanser — this one did a fantastic job of removing all of my makeup with no added stinging sensation. I tried this on both humid and cool days, and it cleaned completely without stripping my skin. I even went back to this one after other cleansers failed me. One night, my skin felt so hydrated that I went to bed without moisturizing — not the best call, probably, but it does help justify the price if you don't need to buy face cream anymore.