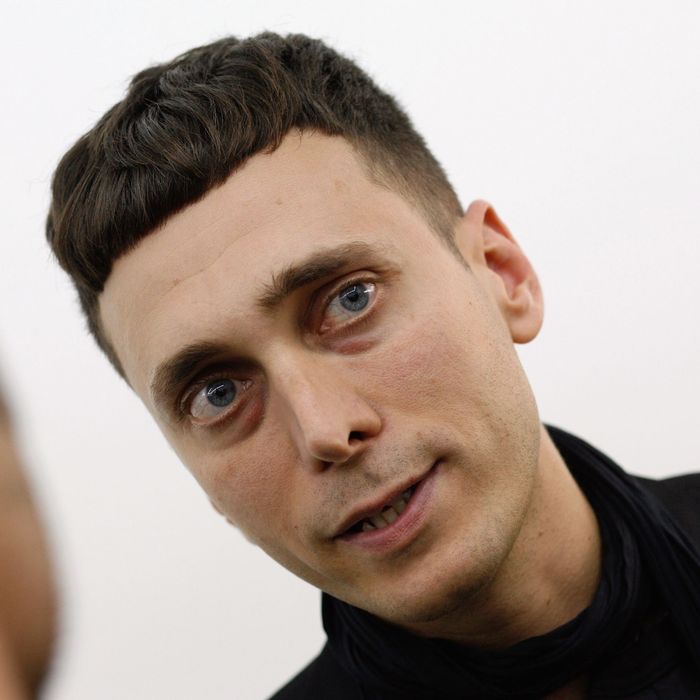 Photo: Miguel Villagran/Getty Images
Saint Laurent's attempts to control press coverage of Hedi Slimane's first show for the fashion house has resulted in a growing backlash against the label, which not only banned several critics — most notably the Times's Cathy Horyn — but also gave journalists strict instructions about their coverage. According to both the Telegraph's Lisa Armstrong and the Times's Eric Wilson, critics who were invited received phone calls or e-mails before the show telling them what they could and could not include in their reviews.
Reports Wilson:
The phone calls came late Monday morning, on the day of the Saint Laurent show. In turn, reporters and critics from The New York Times, The Wall Street Journal, Style.com, WWD and other publications were each presented with what amounted to ground rules for covering the collection, which is highly unusual.

There would be no backstage access before the show, they were told. Afterward, they were welcome to talk to Mr. Slimane, but they were not allowed to ask him questions, or use anything he might say in their coverage …  

… the handling of invitations and access to the show (as many editors, including some editors in chief, privately grumbled) left a feeling of ill will … Several journalists, including Cathy Horyn of The Times, were not invited (although this reporter was); others, including veteran writers like Marylou Luther, who was present when Yves Saint Laurent showed his first collection for Christian Dior in 1958, were given a standing ticket.
It's rare for seasoned fashion journalists to complain about how they're treated at fashion shows — griping about a bad seat is just embarrassing, after all — so for Wilson to write this says a lot. Labels are always strict about backstage press access, but it's unusual for them to lay out such specific dos and don'ts. What's more, most journalists try not to whine about such things for fear of looking biased in their reviews. 
Indeed, some people even mentioned how difficult it was to critique the show objectively, given the circumstances. Wrote Armstrong, "All of which makes this a tricky review to write. No critic wishes to sound petty or vengeful. So let's start with the positives, of which there were a number." She then devoted two meaty paragraphs to the collection's high notes before assessing its drawbacks, finally concluding, "Crucially, what was lacking was the frisson of the unexpected — that challenging jolt that only a really strong show delivers."
As we've previously reported, there were very few journalists with overwhelmingly positive thoughts on the collection. Most saw lots of promise, and nobody panned it completely. But the general consensus was that the show didn't deliver after all the hype.
These various complaints were made all the more complicated by Slimane's personal attack, mounted via Twitter, on the Times' Cathy Horyn, who was not invited to his show but reviewed it anyway, as one can do very easily these days. Saint Laurent's PR team has not released an official statement regarding his rancorous tweets, but Louise Beveridge, the communications director of Saint Laurent parent company PPR, told WWD, "We are here to build relationships … Mutual trust is key."
Meanwhile, many top buyers seemed to have a positive impression of the collection. WWD interviewed several retailers who believed it would sell well, including Neiman Marcus's Ken Downing, who deemed it "the new cool girl's uniform." Andrew Keith, president of the Hong Kong–based stores Lane Crawford and Joyce, saw a lot of potential for Chinese consumers, explaining to WWD:
[Slimane] presented a strong, confident woman, which will appeal to the Chinese customer, and the skinny silhouette, fitted jackets and masculine approach with a softer side expressed through the use of lace, bows and frills, will work nicely on the Chinese body shape.
The collection drew more glowing responses from Harrods' Marigay McKee, Bergdorf Goodman's Joshua Schulman (a former YSL executive), and Barneys's Mark Lee, who gushed, "there was a unanimous and spontaneous love from all the Barneys team members immediately after the [Saint Laurent] show."
Of course, buyers and critics have very different criteria for gauging a collection, and no retailer will ever speak ill of a major fashion house with whom they have an important relationship. But it's perfectly likely that Slimane's designs will prove a commercial success despite all the critical dissent.
See the complete Saint Laurent spring 2013 collection.
Related:
Raf Simons Versus Hedi Slimane: Who Had the Splashier Debut?
Hedi Slimane Gets His Own 'Open Letter'
Cathy Horyn Deems Hedi Slimane's Attack 'Silly Nonsense'
Cathy Horyn Wasn't Invited to Hedi Slimane's Saint Laurent Show