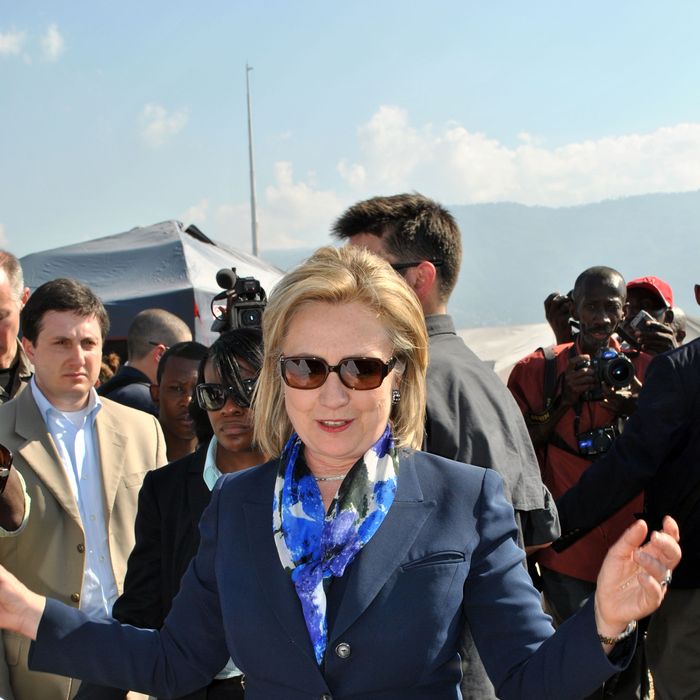 Photo: Jean jacques Augustin/Corbis
Long reads recommendations from the staff of The Cut, from all over the internet. Did we miss your favorite article? Tell us about it in the comments.
Is This Really Goodbye? Marie Claire
The intimate Hillary Clinton profile that spiraled into a State Department vs. Marie Claire (and Ayelet Waldman) feud. "One of the most uncomfortable moments of our interview came when I asked her about her marriage. The discomfort, however, was mine, not hers," Waldman writes. Want more? Try Bill and Hillary Forever, from this week's New York. 
How Going From Straight-Size to Plus-Size Changed One Model's Career, I Love You via Jezebel
Karolin Wolter's first-person account of walking for Marc Jacobs and Lanvin–then jumping to the plus-size market. But "I was only a plus-size in New York. The seven agencies I was working with internationally were still promoting me as a 'straight' size," she notes. 
Diary (10/25/2012), London Review of Books
Emily Witt's essay on online dating perfectly captures the disorientation and disappointment of meeting your algorithmic soul mate and offers a nice introduction to the industry's forefathers–some Harvard nerds and a speed addict, naturally.
The Swingers' Guide to Islam, The Global Mail
A dispatch from a Javanese shrine where "thousands of Muslims regularly turn up to a religious ritual with a surprising stipulation: to seek their fortunes, they abandon spouses, find strangers, and have sex with them." Want more? Try Fuck Church, a series of Vice interviews with members of an obscure Japanese sex cult in 2010.
Growing Up Romney, The New Republic
A detailed portrait of the lives of Mitt Romney's sons—including a harrowing dispatch from the sex talk Tagg Romney received at age 22, in the week before his wedding. Want more? Try The New York Times Magazine's The Mitt Romney Who Might Have Been.
Why Naked Men Get Short Shrift, Wall Street Journal
Western art celebrates the female nude—but where are the nude men? As Vienna's Leopold Museum unveils its "Naked Men" exhibit, art critic Mary M. Lane surveys the landscape and discusses the meaning of male nudity with art historians. And yes, there are visual aids. 
Unmasking Reddit's Violentacrez, The Biggest Troll on the Web, Gawker
A profile of Michael Brutsch, an unassuming Texas office drone who distributes some of the most shocking and disturbing material on the internet. The story is still evolving: Brutsch defended himself to Anderson Cooper on CNN last night. Watch the two-part interview here and here.
The Dead Are Real, The New Yorker
Larissa MacFarquar's profile of author Hilary Mantel, now a week old but newly relevant because Mantel just won the Man Booker Prize (again), intimately describes Mantel's mental life—including how her weight, which has fluctuated due to medication, affected her mental life. And then there's the ghost story.
Inside New York's Last Sensory Deprivation Tank, The Awl
Mary H.K. Choi's New Age adventure is either a horrible nightmare or a surreal fantasy, depending on your disposition.