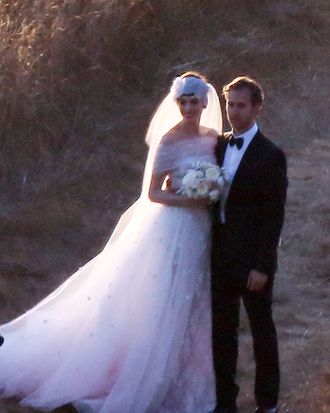 Anne Hathaway and Adam Shulman.
Photo: Clint Brewer / Splash News
As previously reported, Anne Hathaway wore a custom Valentino dress to wed Adam Shulman in California this weekend. Grainy photos of them smooching in a field are now all over the Internet, confirming that Hathaway does, as usual, manage to look great in pictures even when they're blurry and possibly taken from a faraway tree. The strapless dress included many layers of tulle wrapped around her shoulders and trailing behind her like a princessy cloud; an unnamed source told People that she wore no jewelry. But what about the most unusual part of her outfit: the white headpiece that enveloped most of her scalp, like a lacy wreath or, well, a gauze bandage? It was certainly unique, and a creative way of covering up her very short hair — cut for her role in Les Miserables — not that she needed to at all. It's tough to gauge its overall effect before we see better-quality photographs, but until then, thoughts?