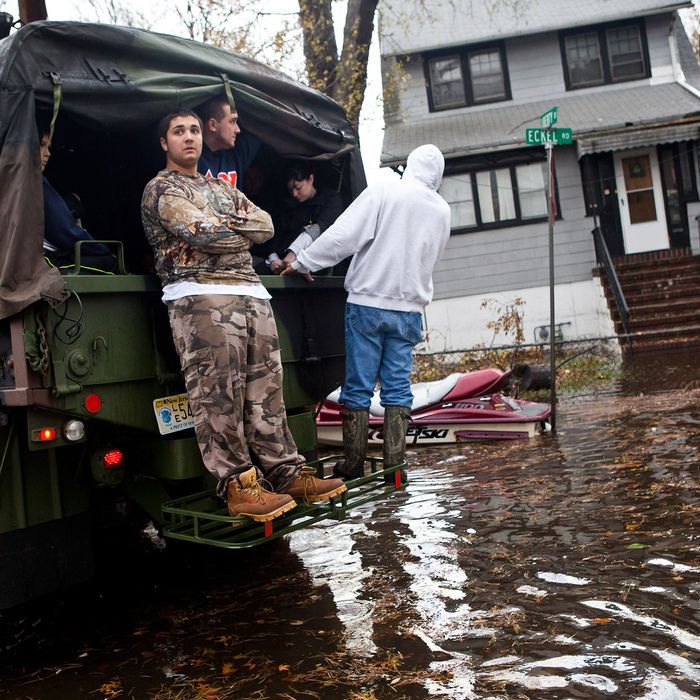 Photo: Andrew Burton/Getty Images
Following the news on Hurricane Sandy's aftermath and wondering how you can get involved? Here are five ways to help the storm's victims — as simple as a text message or as involved as a twelve-hour workday.
1. Donate Money
Americares, which is distributing household cleanup kits and medical supplies, and Feeding America, which supports a network of thousands of food banks, shelters, and pantries. Find more vetted charities here.
2. Donate Blood
Hundreds of blood drives were canceled due to the storm, while the demand for blood and platelets remains the same. Schedule an appointment at the Red Cross's website.
3. Help Animals
Donate to the American Society for the Prevention of Cruelty to Animals, or text "animals" to 20222 to donate $10 to the Humane Society Disaster Relief Fund, to support organizations helping stranded pets in local shelters. Call the New York City's hotline (347) 573-1561 to report stranded pets.
4. Help Internationally
The International Medical Corps is on the ground in Haiti, dealing with the post-storm Cholera outbreak, or text "AID" to 50555 to donate $10 to Operation USA, which is sending relief efforts to its hospital and clinic partners in Cuba and Haiti.  
5. Volunteer
Do Good Right There has listings for debris cleanup projects going on all day. The New York Red Cross particularly needs volunteers who can work twelve-hour shifts and lift 40 pounds. Get on NYC Service's mailing list (instructions on their Facebook page) for additional opportunities, or follow the Huffington Post Impact's Sandy service live blog.