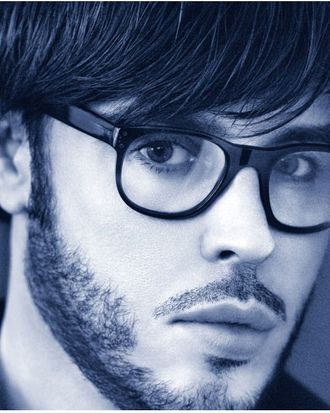 Francois Nars.
Photo: Courtesy of NARS
Makeup legend François Nars is well into the part of his career when he can do whatever he pleases. In his case, this means creating new colors for his eponymous line, designing the makeup look for one fashion show per season (Marc Jacobs, of course), pursuing his personal photography projects, and opening new boutiques in San Francisco, New York, and L.A. His most recent undertaking is an Andy Warhol–themed cosmetic collection, which you've perhaps seen advertised in Sephora store windows. (It's the first time Sephora has devoted their windows to one brand throughout the holiday season.) Meanwhile, he's fiercely passionate about his photography, having shot for multiple Vogue editions and published several books of his images. We caught up with the makeup artist at the Essex House to discuss his Warhol collection, the latest Marc Jacobs show, and his forthcoming photography book, whose subjects wear no makeup at all.
You're probably too young to have experienced the Warhol era. Did you get a taste of it, at least?
Unfortunately, I missed it. I moved to New York in 1984, and Andy passed away not many years after. So I never met him. But I get inspired by lots of people who are dead already, like old movie stars from the 1920s and 1930s. I wish I had met him — you always want to meet people you admire, but if you don't, it doesn't stop you from being inspired by them and their world.
What inspired you to do a Warhol collection right now?
We decided that every year we want to do a collaboration with an artist, dead or alive, and create a limited-edition collection of products that create the feeling of that artist. Andy is the first one. Over the years, I had so many connections with Andy. When I was creating colors, I was inspired by his movies and paintings, the Factory superstars, and his whole world, so it felt like he was the right person to start with.
Would you two have gotten along, do you think?
Well, he loved makeup. He was always experimenting with it. If you look at his silkscreens and old issues of Interview magazine, everything was painted in a way that almost looked like slashes of makeup. So we probably would have connected pretty well, I think.
Do you have any favorite Andy Warhol stories?
If Marina Schiano was here, she could tell you so many stories. She was actually in the factory when Andy Warhol took that picture of Yves Saint Laurent, you know, that famous one. And that same day, Mick Jagger came by, and they had an affair — she doesn't hide it — everything was very spontaneous, according to Marina. It was very, very laid-back, the way Andy would take pictures, and work, and paint. I like that, because that's the way I like to work, doing makeup. There was a freedom, and je ne sais quoi. There was a nonchalance about the seventies that maybe we have lost.
Tell me about some of your current photography projects.
There's one project that is almost done and will come out next year, a new book that I've worked on for almost twelve years. It's about Tahiti, in French Polynesia. It has a lot of portraits in it, different types of portraits with no makeup. For a makeup artist, it's nice to do that, because usually a lot of my photographs have makeup in them. I took a very raw approach with the people of Tahiti — men, women, children — so it's very refreshing. I think people will be surprised to see that side of me. It's a black and white book too, which is a change, because my books are heavily colored.
How does being a makeup artist affect your photography?
Well, I'm interested in beauty. Beauty in a child, beauty in a landscape, beauty in a man, beauty in a 95-year-old woman. And that has nothing to do with makeup. I am not driven by makeup when it comes to photographing people. I am interested in making pictures that talk to you and talk to me, and hopefully I've made the people in my pictures show a side of their personality. But sometimes makeup can be an important accessory because people express themselves with it. In general, I am interested in making people look beautiful with and without makeup.
Do you have a preference, photographing people with or without makeup?
Sometimes a lot of makeup is better, and sometimes less is more. I also love looking at people sometimes with no makeup or very little makeup. Being able to photograph people with no makeup is a good way to stay moving and have a clean, fresh approach to beauty. Some people look better with less makeup, and some people look better with a lot. It's a matter of understanding your subjects and understanding what will make them look the best.
Is it easier for you to make someone look better with makeup, or with photography?
In a lot of cases, makeup is a fantastic help, and that's why women love makeup in general. It's a fantastic way to help somebody look great. It's not the only way, of course, but it's a major accessory, along with hair, clothes, lighting, all those things. But it's hard to say. I would not necessarily put makeup on a child, for example. In most cases women look better with a little bit of makeup. Some rare exceptions, of course, look better without makeup. I've seen makeup destroy people and make them look bad if it's badly done.
You do a lot of fashion shoots. Do you do the makeup for those?
No, no. I help come up with the concept, and I'm always there helping to control the looks on the models. It's very intricate, the connection between photography, makeup, and the model, so I'm always tempted to touch it up, and sometimes I do. But in general, I trust the people I work with, and they understand what I like and my approach to beauty. But I get involved, and I'm involved in the clothes and the hair, too. That's how a photographer should be, I think. You care how the person is going to look.
You did the makeup for Marc Jacobs's spring show a few weeks ago, which was also very Warholian. 
Yes, he had pictures of Edie Sedgwick on the table, so that was really the starting point for hair and makeup. The way Marc works, he always has some picture in his mind of a singer, an actress, a movie, a musician. I think that always helps when building a collection or a woman or an image. We have a lot of connections when it comes to people we are inspired by, so we click very quickly. He is very demanding, but it's fun to work with him because he makes you question yourself a lot, and in fashion you have to do that constantly or else you will age too quickly. I understand him being a perfectionist, because I'm one, and I understand wanting to be sure that you have the right look for a show. Makeup is very important for a show. It's really an accessory on the runway. You have to be sure that it fits the clothes.
Was it pure coincidence that you both were inspired by the Warhol era this season?
You know, I don't know! We didn't talk about it beforehand. I don't know if he knew that I had been working on this. I think Warhol is in the air, too, with the 25th anniversary of his death, and the exhibit at the Met, and all that. I think Edie Sedgwick comes back too. Every five or six years, there is always something about Edie, because she was so modern and stylish and elegant and hippie-ish, all at the same time. So I think that people will always love her.