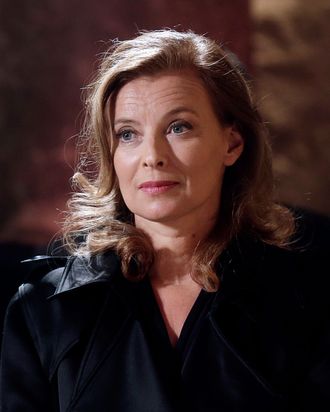 Photo: POOL/AFP/Getty Images
Earlier this week, Christophe Jakubyszyn and Alix Bouilhaguet unofficially released their unofficial biography of Valérie Trierweiler, called La Frondeuse (The Troublemaker). And in it, the pair claims that France's "first lady" was sleeping with now-President François Hollande and Right-winger Patrick Devedjian, while she was still married to reporter Denis Trierweiler. According to the Telegraph, the allegations "sparked a media fire storm" (and legal action) — a revelation in and of itself, since we thought all they were doing over there was making cat videos. Mais non! Helena Frith Powell, who's "spent years writing about French women, the French art of love and how the French seem able to get away with having endless affairs," says:
One interesting aspect is the effect this scandal has had on all their careers. It seems there will be few or no consequences. Everyone hates Miss Trierweiler already. Her nicknames include "First B—-" and "The Rottweiler". She is officially France's least popular first lady ever; so no change there. The two men remain so far unscathed.
Carla Bruni is a tough act to follow.