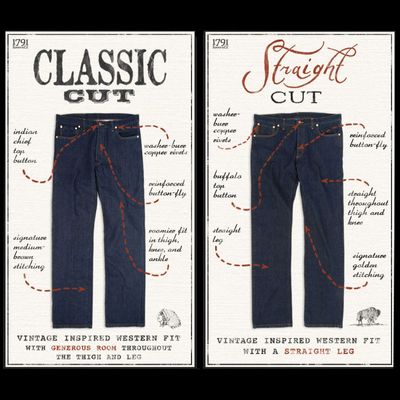 When Glenn Beck launched his own line of jeans earlier this week, the conservative radio host talked on air about how "American" they were and released an ad thick with patriotic images. But Beck's ideology and mania for brand extension alone do not explain the new venture. It turns out he's just really into denim.
For his own legs, Beck has been known to go for the high-end raw stuff, the kind you wear for six months without washing till the fabric conforms to your body. "Whenever we see each other, we'll say, 'Oh, wow, yours are breaking in really awesome,' " says Tim DiDonato, Beck's 27-year-old son-in-law, whom Beck tapped as his designer. For 1791 Supply & Co. Denim, as the brand is called, Beck had another variety of denim in mind. "You have to find selvage," Beck told him. Beck said, "When I grew up, we had selvage, and it was this unwashed jean, and we broke them in ourselves." 
It took DiDonato about a year to create the jeans, with much of the time devoted to sourcing the precise components Beck insisted on, including copper rivets in the old burr-and-washer style and a signature thread for each cut. "We must've went through ten different kinds of brown and twelve or thirteen different kinds of golden yellow to find the exact color Glenn wanted," DiDonato says. Several times, he flew from his home in Manhattan to the Dallas area, where Beck lives, to watch his father-in-law study his options. He still remembers the moment when Beck chose the denim supplier they'd work with. "We're going through them, and he's rubbing them, feeling them, and laying them on his leg. And he's like, 'No.' " Then DiDonato gave Beck a swatch made by Cone Denim in North Carolina. "He's like, 'This is selvage.' And I was like, 'Yup.' " (Specifically, it was so-called red selvage, expensive, sturdy denim made on antique-style shuttle looms, with a clean interior seam edged with scarlet thread.) Beck seemed to know at once that the search was over. They talked about the sturdiness of the fabric—"What ounce is this?" the radio host wanted to know—then Beck said, "Let's call Cone." 
Beck's jeans—they come in two cuts, Straight and Classic—cost $130 a pair, hardly a populist price point, but not an unusual sum to see charged for artisanal dungarees. -DiDonato, a former Bergdorf sales rep who apprenticed himself to the designer George McCracken to learn his craft, works at a desk at Mercury Radio Arts, Beck's Manhattan-based multimedia company, hand-branding logos on leather patches and distressing the copper rivets in buckets filled with chemicals. The look, he says, "is supposed to replicate that whole village-cobbler, there's-a-guy-in-the-Village-making-your-jean" ethos. The first run of 2,000 sold out in a day at 1791 Supply & Co.'s online store. Given their fastidiousness of their old-timey style, it's not crazy to think they'd also do pretty well in the boutiques of Greenpoint and the Lower East Side.