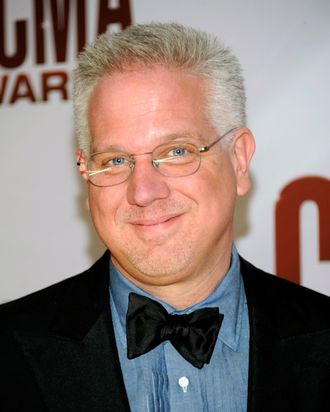 Photo: Evan Agostini/Corbis
Last year, Glenn Beck ended his relationship with Levi's jeans on account of their admittedly cringe-worthy "Go Forth" commercials, which combined a Charles Bukowski poem with images of PYTs swimming and protesting and making out. Beck was disappointed that a company "associated with America and working-class values would use global revolutions and progressivism to sell their products." 
"I don't want to be an activist. I just want my normal life back," he said at the time. "I want my country back."
Today, Beck offers his dedicated legions an alternative: 1791 Supply & Co., named for the year the Bill of Rights was ratified. The jeans, made in Kentucky and North Carolina, are but the latest addition to Beck's year-old apparel store of the same name. It's a joint collaboration with American Mojo, a Boston-based clothing manufacturer that is helping "the American family get its MoJo back" by employing, no joke, single mothers. Like the Lowell, Massachusetts, mill girls but with free day care and a lot of disdain for social welfare programs.
So far, Beck's line offers only two cuts, both for men:  "classic" and "straight."
Get a feel for the line with this 1791 commercial. Although it shares an aesthetic with the Levi's ad, it's about singlehandedly beating the Russians in the Space Race or dying trying. Alternatively, you can look up other American clothing manufacturers here.