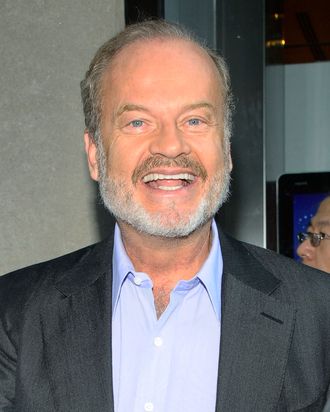 Photo: Harry Pluviose/Corbis
Kelsey Grammer spoke at the Romney-Ryan headquarters in Las Vegas this weekend. He did not bring 3-month-old daughter Faith with him. He also partied the night away at Playboy's Halloween bash in the L.A. Playboy Mansion this weekend. This venue, he decided, was suitable for his infant.
But wait, it gets worse: Kelsey's table at the shindig was next to Paris Hilton's. Hilton spent the evening complimenting Kelsey's pet dwarf on her "like, so well-done" costume. Even celebrity "model and designer" @SexyMelissa May was left concerned, tweeting: "Why the fk does Kelsey Grammer have a newborn baby at the Mansion party!?!?!?"
Finally, the ultimate bad: Kelsey attended the party dressed (halfheartedly) as a vampire. So when grown-up Grace looks through her baby albums, he'll not only have to explain all the photo-bombing nip-slips, but that her first Halloween costume was likely as the Renesmee to his Edward Cullen.