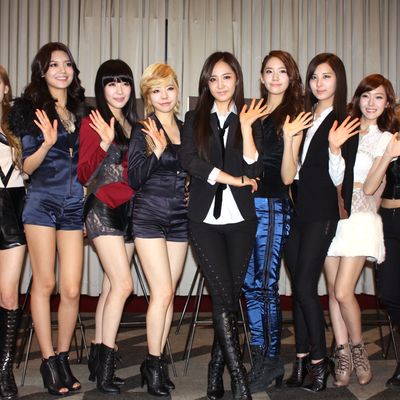 Now that South Korea's ironic "Gangnam Style" is a viral U.S. hit, the West may soon have to reckon with the complicated appeal of K-pop girl groups like Wonder Girls and Girls' Generation. According to an article in this week's New Yorker, Interscope Records is currently angling for a U.S. crossover for the sprawling groups, made up of young women recruited as young as 12 for their looks, later augmented by plastic surgery.
According to label executives and fans, the groups' appeal is not their music, which is catchy but derivative. Instead, the groups project a humility that gives their fans the illusion that "when you see them on stage it's like they've come to see you."
29-year-old Girls' Generation fan Jon Toth explained:
"You think you love them, but then you see Tiffany point directly at you and wink, and everything else that exists in the world just disappears," Toth wrote on Soshified, a Girls' fan site. "You think you love them, but then you see Sooyoung look you dead in the eye and say in English, 'Thank you for coming.'" Toth concluded, "I might not know how much I love these girls."
New Yorker writer John Seabrook was equally enraptured with Girls' Generation, especially the 23-year-old Tiffany and her so-called eye smile ("the precise crinkle in the outer corner that texts her love straight 2U"). His repeat viewings of Girls' Generation music videos prompted his 21-year-old niece to dub him "Uncle Pervy," but according to Seabrook, loving Girls' Generation isn't creepy because "when they wear hot pants, it's to display the gams, not the glutes." Yeah, not helping.