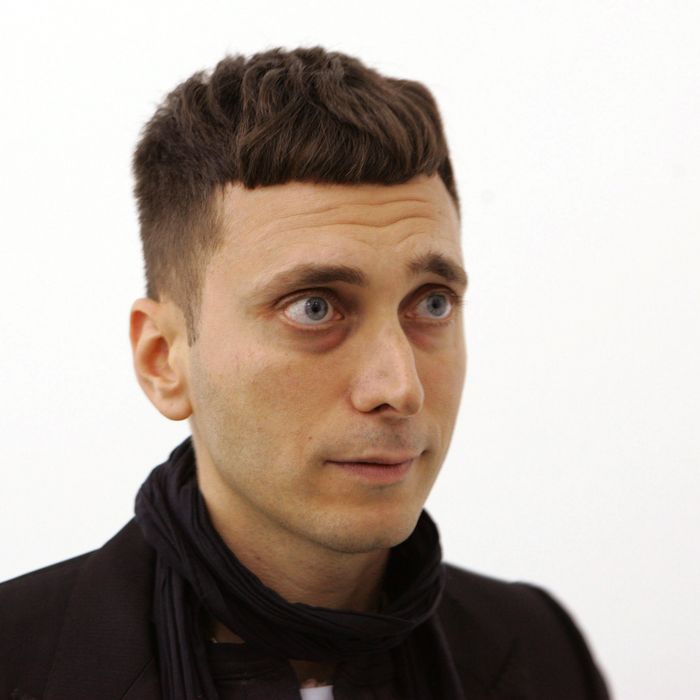 Photo: Miguel Villagran/2007 Getty Images
Following Hedi Slimane's embittered tweet to Cathy Horyn yesterday, the Times of London's Laura Craik has chimed in with an "open letter" of her own. Unlike Horyn, she was invited to the the Saint Laurent show, where she observed that members of the press were treated dismissively:
I don't know if it was intentional, but you didn't make journalists feel very welcome at your show. Some, you didn't invite at all. Others had to stand, or were given seats so bad they could only see the top half of the models, which made it tricky to report on the clothes. Nobody minded sitting behind Azzedine Alaïa, but that all those glum-looking indie kids in black drainpipes got to see the clothes from the front row seemed a little insulting. I respect that you value your friends so highly, but I don't respect some of the people on the YSL payroll who were unnecessarily rude. Friends who have met you swear you are a lovely, laid-back bloke, so this seems weird.
She concludes by emphasizing the obvious — trying to silence critics is a losing battle; besides, it seems uncharacteristic of a designer who should feel secure about his talents.
Because the thing is, you can't control everything. You just can't. You can control your brand's image to the nth degree, and so you should: it worked for Burberry. But you can't control people's reactions. And I really hope you don't want to try. If you were a suit, I wouldn't expect you to understand that. But you're not. You're Hedi Slimane. All the things you seem to love and value — music, fun, sexiness — require freedom. You have yours. I have mine. Without it, we are nothing. So please, don't ban me from your next show, because I really want to see it. We all do. We like you, even though you treat us like a bitch.
The fashion industry, in a nutshell.
See the complete Saint Laurent spring 2013 collection here.
Related:
Hedi Slimane Tweets Open Letter to Cathy Horyn
Cathy Horyn Wasn't Invited to Hedi Slimane's Saint Laurent Show