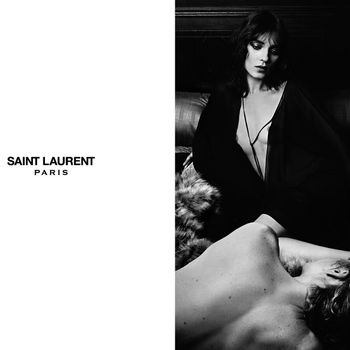 Kati Nescher and Christopher Owens in the new YSL ads.
Photo: Saint Laurent
Hedi Slimane will mount his first-ever runway show for Saint Laurent today in Paris at 8 p.m. (that's 2 p.m. in New York), marking the second of the two most hotly anticipated shows of the season — the first being Dior, which walked on Friday. Not only is this Slimane's first show for YSL, whose ready-to-wear range he has renamed, but it's the first womenswear collection he's revealing to the public. (He did create collections for spring menswear and women's resort, but they were only shown to buyers and kept out of the press.)
So what can we look forward to seeing? Based on what we've heard so far about Slimane's rebranding vision for YSL, the overall aesthetic will probably be stark, bold, and black and white. Gone is the curvy lettering that made up the previous Yves Saint Laurent logo, and in its place is a square block print. The brand's stores are being remodeled with smooth slabs of black and white marble, sharp right angles, and walls of mirrors and glass. The new ads, which have trickled onto the Internet via YSL's Facebook page, feature model Kati Nescher, bare-chested, tattooed, and tousled as she reclines on furs and velvet pillows with shirtless singer-slash-model Christopher Owens. There aren't many clothes in the black-and-white photographs, but we do see a black pump with a sharp stiletto heel, an unbuttoned sheer black blouse, and a delicate lasso necklace.
Last week, WWD reported that Slimane is "said to have lined up a pack of new faces who will walk exclusively for Saint Laurent Paris," so presumably some careers will get a nice boost today; designers like Azzedine Alaïa and Riccardo Tisci are expected to attend the show too. WWD added today that the show's invitations are "sumptuous black booklets filled with pages of fractured animal spots." These animal spots are presumably related to the images currently rotating through the freshly overhauled YSL.com, which will officially relaunch tomorrow and allow people to pre-order clothes from Slimane's cruise and spring collections — notably, none of former YSL designer Stefano Pilati's designs will be offered. (Fun: You can download the animal spots, which are really quite mesmerizing when you watch them, as a screen saver titled "Baby Cat.") In other words, this means that tomorrow we'll be able to see Slimane's resort collection for the first time as well.
Check back here to see the collection later this afternoon; we'll have images up as soon as they hit the wires.
Related:
The Dubious Rivalry Between Raf Simons and Hedi Slimane: An Examination
See Hedi Slimane's Saint Laurent 'Concept,' Realized in the New Shanghai Store
Hedi Slimane's First YSL Collection Certainly Sounds Nice