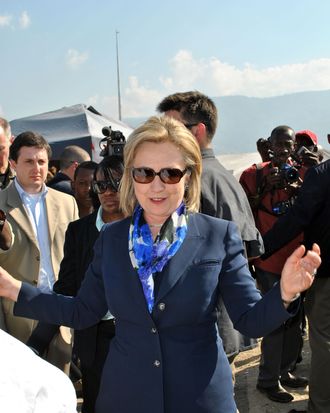 Photo: Jean jacques Augustin/Corbis
 In this month's Marie Claire, Hillary Clinton divulges the secret to her marriage, which writer Ayelet Waldman calls "a partnership of equals" that "stands as both a model and a cautionary tale." (Waldman, who is married to writer Michael Chabon, knows from marriage.)
It's basically "YOLO":
"You have to be true to yourself," Clinton told me. "You have to be enough in touch with who you are and what you want, how you want to live and what's important to you, to make your decisions based on that. Sometimes that's very difficult. Sometimes it's hard to have your own internal voice be heard … it's hard because you've got society with expectations and you've got family, friends, and others who are expressing opinions. When you're in the public eye, it's like open season with the entire world. You have just one life to live. It is yours. Own it, claim it, live it, do the best you can with it."
Waldman also gives Clinton an opportunity to respond to Anne-Marie Slaughter, her former director of policy planning who quit and then wrote a cover story on the difficulties of work-life balance in the State Department, and elsewhere, for the Atlantic. To which Clinton says, well, not everyone's cut out for it.
Clinton's disapproval was palpable. She reminded me that she has spent her career advocating on behalf of women, that she is committed to the idea that "it's important for our workplaces … to be more flexible and creative in enabling women to continue to do high-stress jobs while caring for not only children, but [also] aging parents." But, she said, Slaughter's problems were her own. "Some women are not comfortable working at the pace and intensity you have to work at in these jobs … Other women don't break a sweat. They have four or five, six kids. They're highly organized, they have very supportive networks." … Clinton has very little patience for those whose privilege offers them a myriad of choices but who fail to take advantage of them. "I can't stand whining," she says. "I can't stand the kind of paralysis that some people fall into because they're not happy with the choices they've made. You live in a time when there are endless choices … Money certainly helps, and having that kind of financial privilege goes a long way, but you don't even have to have money for it. But you have to work on yourself … Do something!"
As this blog has previously noted, Hillary Clinton never breaks a sweat.