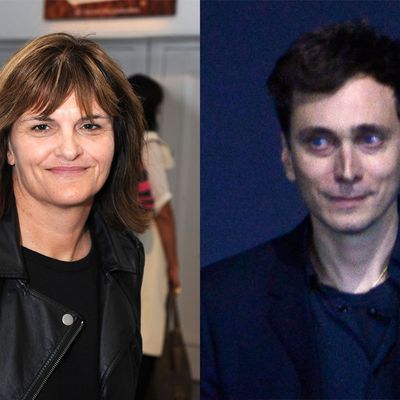 Cathy Horyn and Hedi Slimane.
Photo: Getty Images
As previously reported, Cathy Horyn was the subject of a bizarre tweet by Hedi Slimane following her review of his debut show for Saint Laurent, in which she explained that Slimane had barred her from the show because he was offended by something she wrote back in 2004. (Horyn was not the only one left off the invitation list: BoF editor Imran Amed was not welcome, he was told, because YSL was unhappy with the "tone of voice" he had used when writing about the brand.)
Horyn has not responded publicly to Slimane's malicious tweet, which not only defied her opinions, but also called her "a schoolyard bully," and personally attacked her physical appearance. When reached for comment last night, Horyn told WWD, "It's just silly nonsense to me." 
She's right not to dignify Slimane's statements with a response, just as she was right to ignore the lyrics in Lady Gaga's soundtrack to the Mugler show, which stated, "Cathy Horyn, your style ain't dick," in addition to insulting her boyfriend, Art Ortenberg. Indeed, the more that Horyn's haters muddy themselves by attacking her personally, the better she looks. It also speaks volumes of her influence that these bold-name figures have lashed out at her with such rancor, and at the end of the day, their statements will just result in more people reading her work. If anything, this "silly nonsense" only empowers Horyn further.
Related:
Hedi Slimane Tweets Open Letter to Cathy Horyn
Lady Gaga Disses Cathy Horyn and Art Ortenberg in Her Mugler Rap
Cathy Horyn Wasn't Invited to Hedi Slimane's Saint Laurent Show