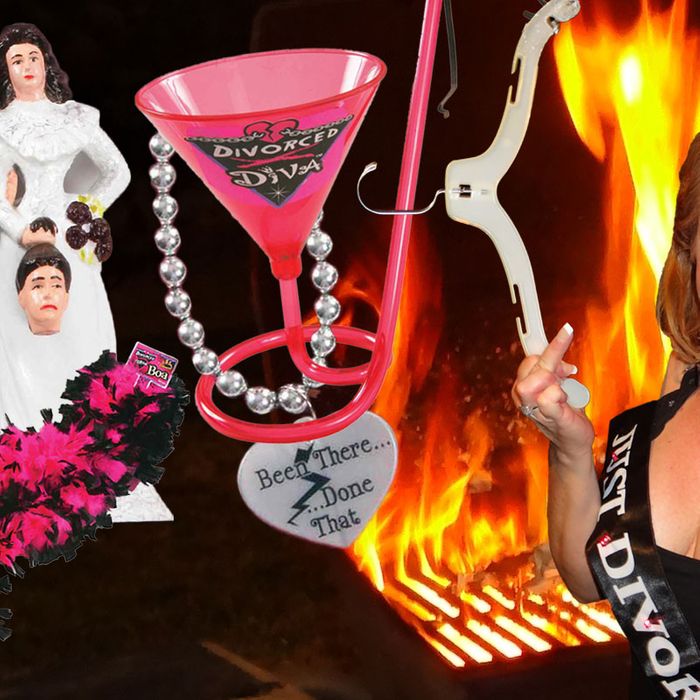 Mari-Rene Alu is cheesing like Honey Boo Boo Child in front of her flaming backyard barbecue grill in Las Vegas. It's one of the fortysomething flight attendant's favorite photos: Her blonde bob is professionally blown-out, she has a fresh French manicure. and she's wearing a black sash that blares: "Just Divorced."

"It was my idea to burn my wedding dress," she says with a giggle. "It was amazing."

Two weeks after her thirteen-year marriage to her "hot shot" husband ("you can print his name: Mike Forrest") was legally dissolved and three years after she busted him for cheating, Alu charred her gown before a dozen friends at her divorce party.

"She put the dress on top of the grill and then a hot dog to represent him and grilled the whole thing," Alu's divorce party planner, Glynda Rhodes, gleefully recalls. "We also had foamboard targets with a picture of the bizzo that he was cheating with and [Alu] was able to just shoot it up with a pellet gun." (Bizzo, Rhodes tells me, is a portmanteau for bitch ho.)

Alu chugged Champagne straight from the bottle and and handed out buttons as party favors. "Divorce," one read, "is the new engaged."

With divorce rates approaching 50 percent, divorce parties have gone mass market. Though critics brand them as fun as "celebrating a miscarriage," the same party suppliers that helped turn bachelorette parties into a debauched female rite of passage have turned their attention to the moment when a married woman returns to single life.
Early adopters of the divorce party were an offbeat elite; they flaunted incredulously amicable divorces (Jack White and Karen Elson; billionaire socialites) and baited the paparazzi (Heather Mills). Almost immediately thereafter, a new scorched-earth party genre emerged — starting with Forum Novelties, a Melville, New York, wholesaler that launched its "Divorce Diva" line three years ago. After fielding a series of custom requests, the company began churning out ex-husband toilet paper, decapitated groom cake toppers, and doormats customizable with photos of Mr. Wrong. The company realized that boas and tiaras they had been selling to penis-straw-sipping bachelorettes would instantly find a new market when relabeled "Divorced Diva." The line commands aisle space in party stores nationwide, including ubiquitous New York retailer Ricky's.

The Divorce Diva voice is one part Cathy comic strip, one part Lorena Bobbitt. (See: the "pecker" piñata.) Popular screen-printed sayings include "No men? Amen!" "Screw the ring, I WANT ALIMONY," "Divorced and on the prowl."
"There is more interest in the line as time goes on," Forum Novelties product developer Warren Berkowitz told us, almost apologetically. He wouldn't disclose numbers, but said sales are consistently rising. "Unfortunately, there's a growing need for this."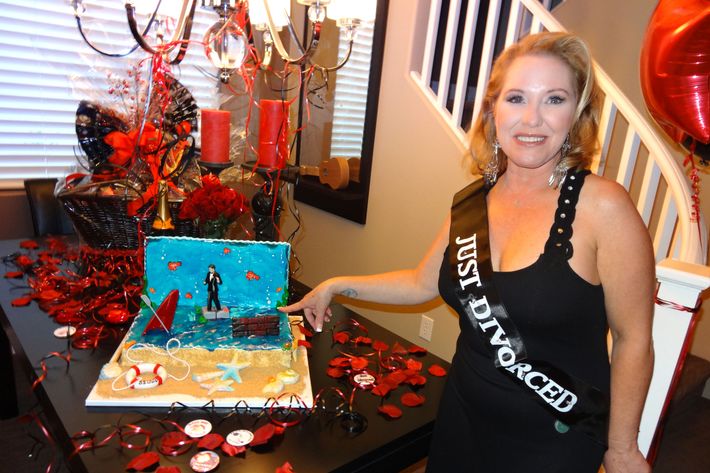 Jessie Diamond, a 31-year-old single mother in Utica, New York, divorce-partied through a painful split last month. She drank Champagne with friends, then went dancing at a local club. (According to Rhodes, divorce party jams include P!nk's "Blow Me (One Last Kiss)" and Cee-Lo Green's "Fuck You.") Her husband of four years, also the father of her 4-year-old daughter, had dragged their divorce out for almost two years. After failing to appear at several court dates, a judge granted the divorce in his absence.

"The marriage was over, but it was the start of the rest of my life," Diamond explains. "It was like, 'Don't pity me because I'm divorced. Celebrate with me because I'm free.'" Whereas a bachelorette party marks "the end of independence," a divorce party marks a new beginning.

Forum Novelties notes that down-with-love voodoo dolls and personalized candy wrappers stamped with a divorcée's "release date" are actually outselling the bachelorette product suite at one of their top online retailers, BacheloretteDiva.com.

"The trend is really picking up. I'd say out of ten orders, seven of them are divorce," says Janet Morante LaFauci, who runs the website from her home in Glendale, California. That's a 30-percent increase since when the site began selling divorce tchotkes three years ago, she estimates.

After the May-to-September wedding blitz dies down, Morante LaFauci reports a distinct divorce season: "From end of September through February is when my divorce stuff really sells."

Like lawyers and therapists, she profits from divorce. But Morante LaFauci believes she empowers downtrodden spouses to become, well, divas.

"Everyone always freaks out, like, 'Oh my God, divorce is so traumatizing. Why would they want to throw a party?'" she says. "But divorce parties usually happen after months and all the legal work have passed. They get to the point where they're like, 'Thank God this is all over. Now let me whack the heck out of that pecker piñata.'"

Christine Gallagher, L.A.-based author of The Divorce Party Planner and aunt of dancing divorcée Diamond, says her divorce party business has tripled since 2003. She now plans three divorce parties per month, at costs ranging from $5,000 to $20,000 per soiree, and sometimes turns down clients because she's too busy.

"To me, it marks the changing societal acceptance of divorce. It's not like the old days where divorce was shameful and you were left out of the dinner party invites," Gallagher opines.

A recent gathering honoring the divorce of a television writer included a formal "divorce ceremony" complete with one-woman vows beneath a traditional Jewish chuppah.

"It was like, 'Do you accept the fact that you are now a single woman and your marriage is over? We're here to honor the rest of your life,'" Gallagher says, invoking the tone of an officiant. "Something symbolic usually happens with their wedding ring. In this case, the woman actually buried it and planted a sunflower over it."

The bizzo-blasting Alu also reappropriated matrimonial tradition for her divorce party, two-stepping down a makeshift aisle to the sounds of her wedding song, George Straight's "Cross My Heart," played backwards.

"It was like an un-wedding," Alu explains. "It was kind of to show him, you know what, I am happy. I'm surrounded by people that love me. Even if you don't love me, I love me."

Rhodes, who runs the Vegas-based Divorce Party Planner (no affiliation with Gallagher), says she can't wait for her own divorce party, pending the finalization of her divorce from second husband Jim Rhodes, a prominent Las Vegas contractor.

"Oh, girl," she says with a whistle. "Mine's gonna be off the hook."