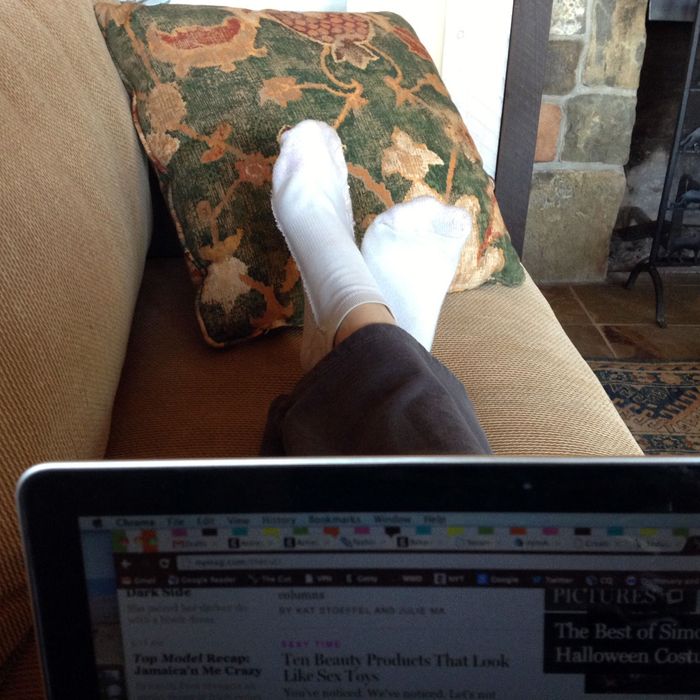 My hurricane uniform.
Photo: Courtesy of Charlotte Cowles
In light of Hurricane Sandy surging towards Manhattan, the Cut's headquarters are closed today. But as you may have noticed, we dedicated bloggers are pressing on with our work, typing from our respective couches in our respective disgusting outfits as we consume emergency supplies with alarming speed and pray that the closest bodega won't close or run out of beer before we lick our refrigerators bare. 
Then there's one of us who happened to go on vacation last week (ahem) and had our flight cancelled, stranding us at our grandpa's house in New Mexico (ahem, outside of Santa Fe). I am currently poking away at my laptop under blue skies and bright sun, wearing old socks, dog-hair-covered sweatpants that I bought from American Apparel in 2005, and goodness-knows-whose sweater, since I found it in the guest-room closet. Which brings me to the crux of this post: Everyone may have their panties in a wad about Hurricane Sandy, but at least they are probably comfortable, delightfully ratty granny panties swathed in baggy sweatpants and planted firmly on a sofa cushion. Since many of you, dear readers, are trapped at home on this not-so-fine Monday morning, how are you suiting up for this day of padding around your restricted square footage? I've polled a number of Cut staffers for their own sartorial choices, most of which apparently involve bralessness; feel free to contribute your own in the comments.
Me, Charlotte: My grandpa, bless him, has a washer and dryer, so I am wearing delightfully clean socks, one of which I have just noticed is inside-out. My bra status is questionable, as usual (hi, bosses!), because I am wearing one of those tank tops with a shelf-bra situation, not that there's much that needs supporting.
Maureen O'Connor: "Wearing my stay-at-home standard of head-to-toe American Apparel, the official outfitter of twentysomethings sitting on sofas in Brooklyn. Also, black cotton leggings, oversize gray crewneck shirt, and oversize gray hoodie. No bra. Never a bra when working from home."
Stella Bugbee: "Wearing my usual weekend gear: Cashmere leggings, J.Crew T-shirt, and navy blue A.P.C. grandpa cardigan, with my hair in a top-knot. Definitely not bothering with makeup, and DEFINITELY STILL WEARING A BRA." 
Kurt Soller: "I, too, am forgoing a bra."
Diana Tsui: "Wearing gray Roxy yoga pants that were too long for me so I hacked them myself at home last night with a pair of scissors. They're jagged around my ankles, but it beats falling on my face. No bra, because who the hell wears a bra at home?"
Kat Stoeffel: "Black leggings that have orange bleach stains on them. I Sharpie'd them black again but you can still tell. Also, people who love me warn that they are kind of see-through."
Hilary Moss: "Dior couture and the $2.5 million Victoria's Secret fantasy bra."