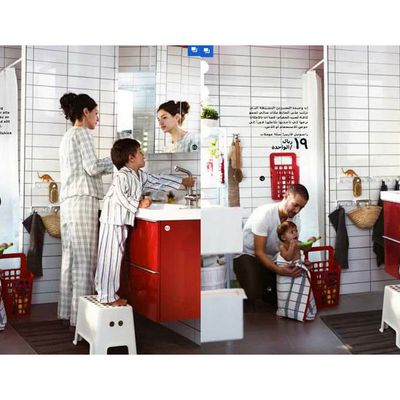 Swedish furniture giant Ikea regrets photoshopping images of women out of the Saudi Arabia version of its catalog, a cross-cultural edit first reported on by Metro Sweden. 
Last month, Ikea removed a photograph of customers posing in Pussy Riot's signature balaclavas from its Russian website, stating "Ikea is a commercial organization that conducts its activity outside of politics and religion." But the removal of women from the catalog — a decision made in cooperation with Ikea's Saudi Arabia franchise — has been viewed by some as an equally religious and political move. Wahhabism, a powerful and conservative subsect of Islam there, frowns upon images of women in the media.
"We should have reacted and realized that excluding women from the Saudi Arabian version of the catalogue is in conflict with the IKEA Group values," Ikea's spokesman told CTV.
Last year, ultra-Orthodox Jewish newspaper Der Tzitung came under criticism for removing Hillary Clinton from the photograph of the Situation Room on the day Osama bin Laden was killed for similar reasons.