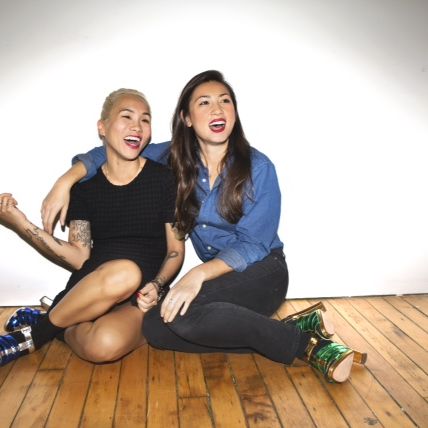 Photo: Courtesy of Cole Haan
New York style-scenesters and best friends Jen Brill and Olivia Kim are both regulars on the New York social circuit. And if you trail down to their feet on any party snap — beyond Brill's trademark red lips or Kim's chameleon hair — you'll notice the heels they're wearing from Cole Haan, shoes the ladies helped design.
The pairing may seem unlikely for the 84-year-old American shoemaker. Style leaders in Manhattan's downtown neighborhoods and blogs, too, Brill is a brand ambassador for Chanel and creative consultant-for-hire, and Kim is Vice-President of Creative at Opening Ceremony. But when a pal who works at Cole Haan asked them to create the brand's first-ever women's collaboration for fall, they couldn't resist. The first collection, full of jewel-toned Italian-suede "Chelsea" pumps, was a runaway success, in part because the women convinced friends like Chloë Sevigny, Lesley Arfin, Annabelle Dexter Jones, and Chrissie Miller to lend cool-kid cred.
For the holiday season, they designed an ankle-strap pump and strappy sandal that feel festive for parties with higher, chunkier heels, mixed metallics, clashing color combos, and shiny pastel leathers. We caught up with Brill and Kim right before the collection hits stores on November 7 to discuss their ongoing collaboration, advanced personal style, and some tips on wearing open-toed heels once it's cold out.
How did this collaboration come about?  You both have demanding full-time jobs that must leave little time for additional projects. 
Jen Brill: Before the collaboration, we were on Etsy looking at vintage shoes. We found a fisherman's flat sandal from Cole Haan, from the early- to mid-nineties, and held on to the image. Our friend Gavin [at Cole Haan] then asked if we would be interested in doing a collection of shoes with them. We were psyched. The gentleman who designed the shoe from Etsy was still working there. The shoe became the basis of our high heel.

What is the process of your collaboration as a design team?  
JB: I think that Oli and I have very similar ideas, but I would still test her — I knew I liked violet with royal blue, orange and kelly green, and wanted to see what she would say. And she said violet and royal blue, orange and kelly green. We're on the same wavelength.

How do you find inspiration for the collection?
Olivia Kim: I'm always looking for something that feels super fun, and the idea was always about going from day to night. Since holiday is a fun time of year, we thought of combining regular metallics with pastel metallics – [things] not usually paired together. 

A lot of girls in New York are wearing your shoes. 
JB: It's the most flattering thing. Amy Poehler has been wearing the shoes, like, several times a week. It's the coolest.
OK: We kind of geek out and are like, "Oh my God." But it's often also our friends wearing them, and they are our style icons.  
 What makes a good shoe? 
JB: Height. Gorgeous materials.
OK: Comfort and color. High quality at a good price point, but with that hubba hubba factor. 

Both of you have what is referred to as "downtown" New York style. Does that apply to the collections for Cole Haan?
OK: Part of that downtown cool-girl style thing is all about accessibility, the ability to go from day to night, from work then to meet your friends out. The shoes are reflective of that. You're walking around the city in these shoes. You're not getting into a town car in them. 

How would you describe your personal styles?
JB: Messy! I'm a messy girl who likes nice things, but also likes things that are falling apart. I'm also into nice materials.
OK: What I really like is the idea that you can be sort of wrongly dressed for the wrong occasion — overdressed for day and then underdressed for evening. It's an unexpected mix. Our shoes come in funky colors yet in comfortable styles, worn with socks from Duane Reade. We only buy our socks from Duane Reade.

What do you wear with your shoes? 
JB: I love our gold-and-green pseudo-reggae Rasta shoe. I've been wearing them with jeans, skirts. Oli's been wearing hers with skirts and dresses, with black or white socks from Duane Reade.

What would you recommend to women for the holiday season? Aside from the shoes you've designed …
JB: An oversize trench. I currently love this big Chanel black wool trench coat that looks like its five sizes too big. Nails with holiday motifs from Madeleine Poole or Wah nails are great if you're lucky and happen to be in Europe.
OK: Fun nails, definitely. Lots of bags of Santa Maria Novella potpourri. And the socks from Duane Reade. They're one-size-fits-all.
Do you have upcoming collaborations in your future?
JB: We are working on something for spring. But we are going to be vague.