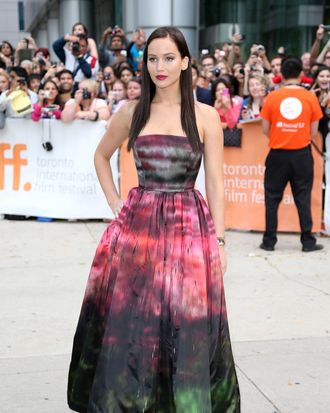 Jennifer Lawrence in Dior Couture.
Photo: Terry Rice/Getty Images
Twenty-two-year-old actress Jennifer Lawrence is a new face of Christian Dior's Miss Dior bag, marking her first luxury fashion campaign. Notably, she's the first representative to be tapped at Dior since Raf Simons took over the helm in April. WWD reports that her first print ads will come out next spring; meanwhile, the fashion house will continue its relationship with Marion Cotillard, who has fronted Dior campaigns (including Miss Dior) since 2008. It's unclear whether Mila Kunis, who has also been featured in Miss Dior ads, will continue to do so.
This announcement follows the release of Lawrence's first Vogue cover (the U.K.'s November edition). She's also one of the precious few celebrities to get her hands on Simons's much-hyped Dior Couture collection — she wore one of the pieces to the premiere of the Silver Linings Playbook a month ago. She humbly told WWD that she's still "getting up to speed" on fashion, but surely since The Hunger Games came out she's been inundated with offers from brands and held out for a big fish like this one — a smart move on her part.